How to Give Online
Faith Presbyterian Church offers a safe and secure way to make a donation from your computer or smart phone. You may make a one-time donation, or start a recurring donation to be made at regular intervals. Payments may be made with credit or debit card numbers or checking or saving account numbers.
When you are ready to start to make your online donation, click this button
You will be redirected to the Online Donation page for our church (pictured below), provided through Vanco, our payment solutions provider. If you are using a smart phone, click on the "View Mobile Site" link in the upper right to see a web page that fits your phone's screen.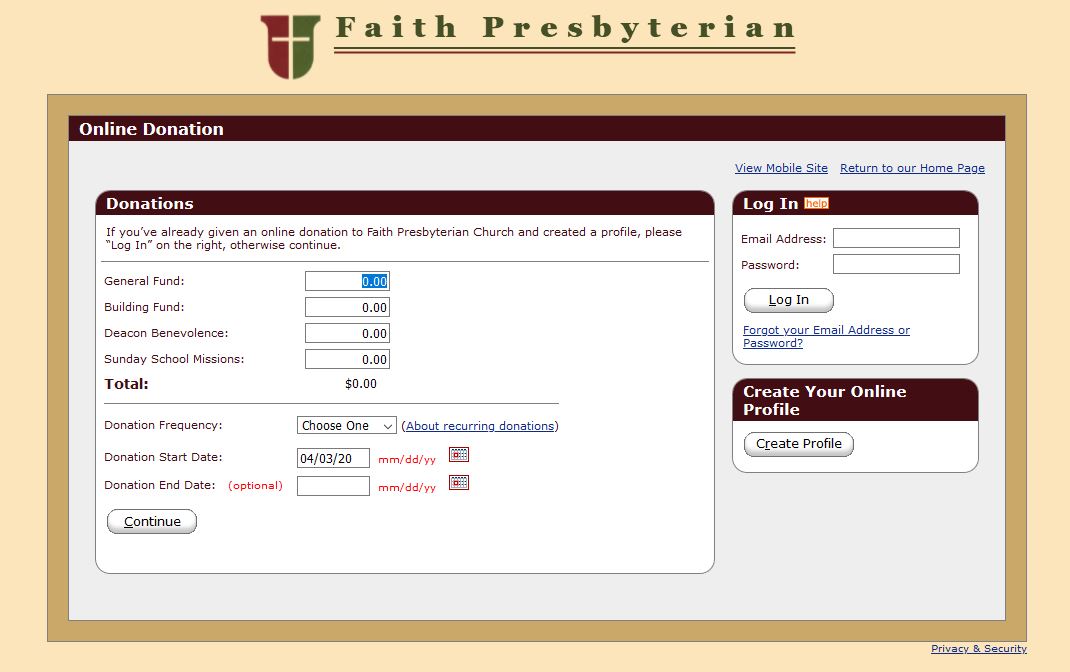 If you have given before and created a profile, log in on the right side of the page. (Note: this is not the same as your church website log in information. It is specific to the Online Donation process.)
If you are planning to contribute just once, fill out the left side of this form and hit the "Continue" button.
If you anticipate making repeated contributions or wish to scheduled recurring donations, then create a profile. If you have not already created a profile, you can create one, if you wish, using the "Create Profile" button, or you can go ahead and start making a donation in the "Donations" area on the left side of the page. You'll have another chance to create a profile after you've entered information for your donation. See "Profiles and Logging In" a few paragraphs down this page.
If you decide not to make a donation, click the "Return to our Home Page" link in the upper right.
When you make a donation, you need to pick the funds to which you want to donate and type in how much you want to donate to each fund. You also need to say how often you want your donation to happen (once, every week, or every month), and when you want the transaction to take place.
When you continue to the Donation Information page, shown below, you will be asked for your name and address so that we can acknowledge your gift. You may enter your phone number and email address, but neither are required. They are there to help the church office contact you if there is a question about your gift. If you had a profile and logged in, this information will be filled in automatically. If you don't have a profile, you can use the information entered on this page to create one. That will happen if you select a password.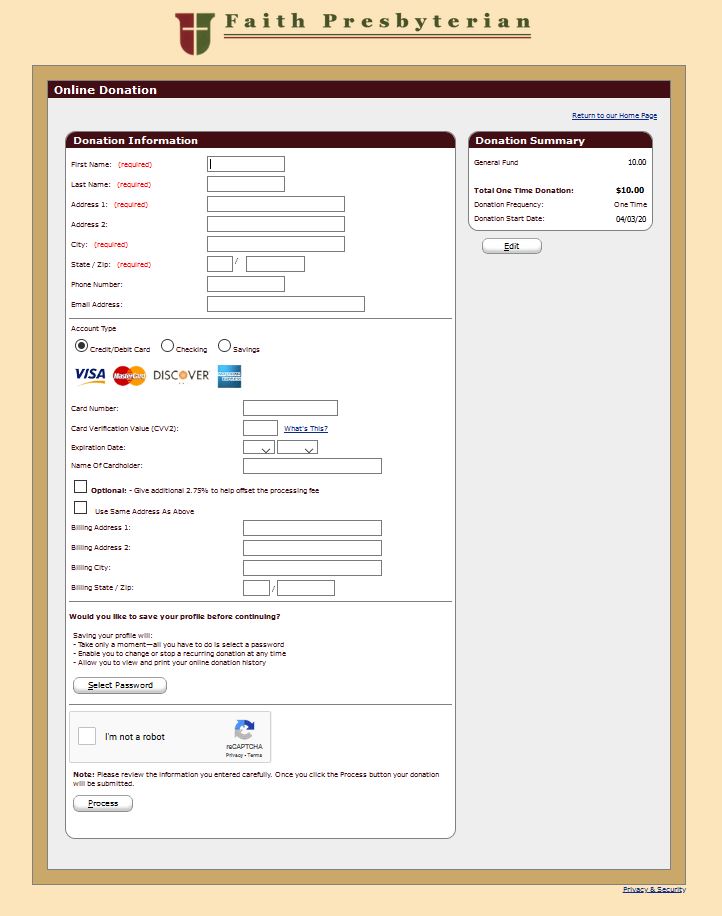 Then you tell us whether your donation will come from your checking account, your savings account, or a credit or debit card, and you provide your account number and the other necessary information depending on your money source.
Finally, click the "Process" button to make your donation. Make sure everything is correct before clicking "Process."
If you have any trouble, contact the church office.
Profiles and Logging In
A profile saves some of your information on a secure computer belonging to Vanco Services, and automatically fills in the web page forms for your new donation. Your profile is saved using your email address as the key, and is protected by a password that you select. Passwords must be at least eight characters, must include at least one letter and one number, cannot be identical to your first name, last name or email address, cannot be reused, and are case sensitive. Creating a profile is something you do only once.
After you have a profile, you can log in from the first page using your email address and password. Having a profile and logging in allows you to save time when making an online donation. If you have a profile, you can view the history of donations that you have made and view any pending gifts, and information you save when creating the profile can be used to fill in the blanks when you make a donation.
It is not necessary that you create a profile or log in to make your donation. Do not start a recurring donation unless you first create a profile so that you can stop the periodic donations.