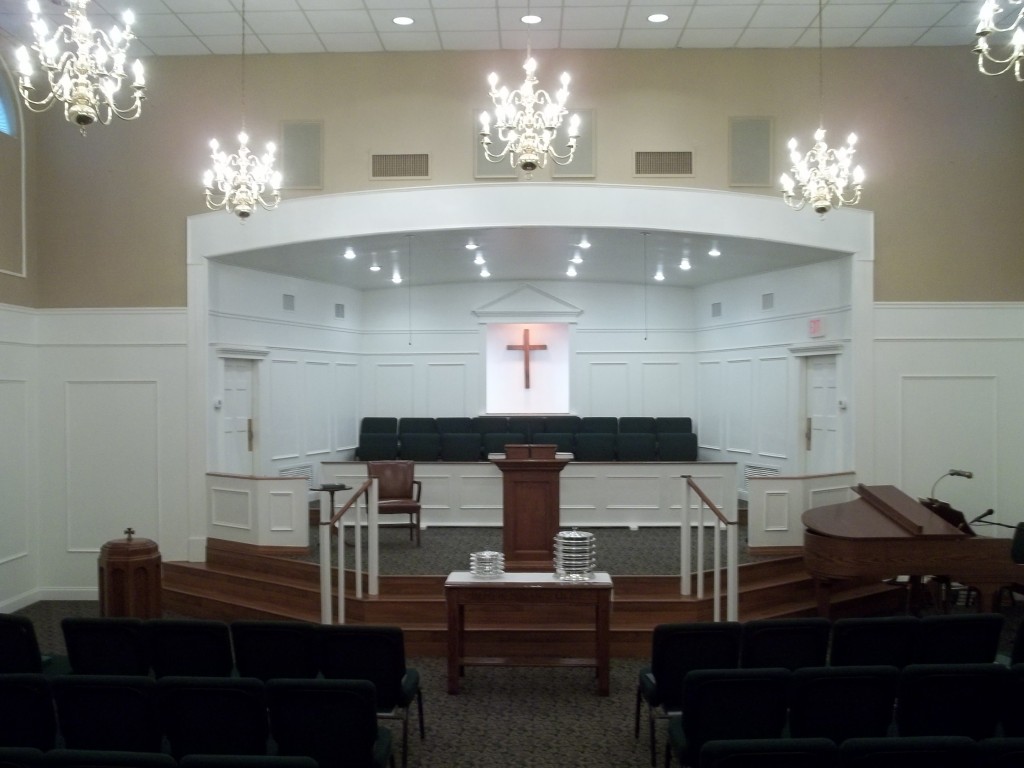 Who were the Thessalonians and why did the apostle Paul write two letters to them? They were a group of Christians living in Thessalonica, a major well-known city in the ancient world, located on the main Roman road called the Via Egnatia. Paul's connection with this city dates back to the time of his second missionary journey. Together with his friend Silvanus (Silas), Paul had been traveling throughout the different provinces of Asia Minor seeking to preach the gospel and plant churches. After seeing a vision of a Macedonian man urging him to "Come over to Macedonia and help us" (Acts 16:9), Paul embarked on a journey to that region with Silas and Timothy, "concluding that God had called [them] to preach the gospel" there (Acts 16:10). They traveled first to Philippi (Acts 16:11-40), before proceeding to Thessalonica. You can read about the founding of this church in Acts 17:1-9.
Click here for the link to download the audio file for the sermon to your computer. The sermon is also available for you in video form. Click here to watch the sermon.
Children's Message: Pastor Chad Sadorf has been including a series of Children's Messages. This series of Children's Messages will look at spiritual gifts. Today's message is provided as a video; this link appears just after the Gloria Patri in the service (where it would normally occur in our church service). Click on these links for a children's bulletin and a coloring page to accompany today's message: Children's Bulletin and Coloring Page.
---
---
Service for Family Worship:
Call to Worship:
Psalm 95:6-7
6 Oh come, let us worship and bow down; let us kneel before the Lord, our Maker! 7 For he is our God, and we are the people of his pasture, and the sheep of his hand. (ESV)
Prayer:
Gracious Father, we bless you for your creation, preservation, governance, and sustaining of all of life, but above all for your immeasurable love in the redemption of sinners by your Son.
We pray, Father, give us such an awareness of your mercies that with truly thankful hearts we may show forth your praise, not only with our lips, but in our lives, by giving up ourselves to your service, and by walking before you in holiness and righteousness all our days, through Jesus Christ, our Lord. Enable us by Holy Spirit's power to offer you worship that is pleasing and acceptable in your sight, even as we worship in spirit and in truth. For we ask this in Jesus' name. Amen.
Worship in Psalm:
Psalm 2 (Click here for the text of the hymn), (Click here for the piano accompaniment), (Click here for organ accompaniment)
In the morning services this month, our congregation will be singing Psalm 2. In introducing this psalm, Charles Spurgeon quotes the 18th century Biblical translator and commentator, Robert Lowth, "The establishment of David upon his throne, notwithstanding the opposition made to it by his enemies, is the subject of the Psalm. David sustains in it a twofold character, literal and allegorical. If we read over the Psalm, first with an eye to the literal David, the meaning is obvious, and put beyond all dispute by the sacred history … if we take another survey of the Psalm as relative to the person and concerns of the spiritual David, a noble series of events immediately rises to view, and the meaning becomes more evident, as well as more exalted. The colouring which may perhaps seem too bold and glaring for the king of Israel, will no longer appear so when laid upon his great Antitype. After we have thus attentively considered the subjects apart, let us look at them together, and we shall behold the full beauty and majesty of this most charming poem." from The Treasury of David, by Charles Spurgeon, www.spurgeon.org/treasury/treasury.htm
Corporate Scripture Reading:
Matthew 5:43-48
43 "You have heard that it was said, 'You shall love your neighbor and hate your enemy.' 44 But I say to you, Love your enemies and pray for those who persecute you, 45 so that you may be sons of your Father who is in heaven. For he makes his sun rise on the evil and on the good, and sends rain on the just and on the unjust. 46 For if you love those who love you, what reward do you have? Do not even the tax collectors do the same? 47 And if you greet only your brothers, what more are you doing than others? Do not even the Gentiles do the same? 48 You therefore must be perfect, as your heavenly Father is perfect. (ESV)
Confession:
Almighty God, Creator and Redeemer, holy beyond all comprehension, perfect in all your attributes and character, forgive our sins. Forgive the sins that we remember, and the sins we have forgotten. Forgive our many failures in the face of temptation, and those times when we have been stubborn in the face of correction. Forgive the times we have been proud of our own achievements and those when we have failed to boast in your works. Forgive the harsh judgments we have made of others, and the leniency we have shown ourselves. Forgive the lies we have told to others, and the truths we have avoided. Forgive us the pain we have caused others and the indulgence we have shown ourselves. Gracious Father, have mercy on us, restore the joy of our salvation, and transform us increasingly into the image of your Son. For it is in his name we pray. Amen.
Assurance of Pardon: 1 John 2:1-2a
1 My little children, I am writing these things to you so that you may not sin. But if anyone does sin, we have an advocate with the Father, Jesus Christ the righteous. 2 He is the propitiation for our sins. (ESV)
Propitiation is a sacrifice which takes away God's wrath. A wonderful promise we have in the gospel is that Jesus has removed God's wrath from his people. And through the instrument of faith we are credited with the results of his finished work on our behalf. We are utterly forgiven for all our sin, past, present, and future. Glory be to God!
Affirmation of Faith: The Westminster Larger Catechism
Question 64:
What is the invisible church?
Answer:
The invisible church is the whole number of the elect, that have been, are, or shall be gathered into one under Christ the head.
Question 65:
What special benefits do the members of the invisible church enjoy by Christ?
Answer:
The members of the invisible church by Christ enjoy union and communion with him in grace and glory.
Question 66:
What is that union which the elect have with Christ?
Answer:
The union which the elect have with Christ is the work of God's grace, whereby they are spiritually and mystically, yet really and inseparably, joined to Christ as their head and husband; which is done in their effectual calling.
Response in Praise:
Gloria Patri (Click here for the text of the hymn), (Click here for voices and accompaniment), (Click here for the piano accompaniment), (Click for the organ accompaniment)
Children's Message:
Spiritual Gifts: The Gift of Leadership (Click here to link to the video of the Children's Message)
(You may want to take a moment to pray with your child or children for your family, your church family, our country and world.)
Offertory:
Matthew 6:19-20
19 Do not store up for yourselves treasures on earth, where moth and rust consume and where thieves break in and steal; 20 but store up for yourselves treasures in heaven, where neither moth nor rust consumes and where thieves do not break in and steal. For where your treasure is, there your heart will be also. (NRSV)
(Online giving is now available for your convenience. This link, https://www.faithpresarp.org/give/, will take you to the page that explains this process and includes a button which will redirect you to the secured giving platform.
Response in Praise: Doxology (Click here for the text of the hymn), (Click here for voices and accompaniment), (Click here for the piano accompaniment), (Click for the organ accompaniment)
This 1855 hymn written by Horatius Bonar originally had 11 stanzas. The hymn is filled with Lord's Supper imagery: stanza 2 "feed upon the bread of God" and drink "the royal wine of heaven". Stanza 3 speaks of "the hour of banquet" and "the heavenly table spread". Stanza 5 pictures the beauty of double imputation: "mine is the sin, but thine the righteousness"; "mine is the guilt, but thine the cleansing blood".
Pastoral Prayer: (Click here for the Pastoral Prayer)
Prayer for Illumination and Sermon: Gospel Encouragement (Click here to listen to the sermon) (Click here to watch the sermon)
1 Thessalonians 1:1-10
Hymn #393, Come, Let Us Join with One Accord (Click here for the text of the hymn), (Click here for the piano accompaniment), (Click here for the organ accompaniment)
Charles Wesley has given us a Lord's Day hymn that reminds us from Hebrews 4:9 – "of the Eternal Sabbath Rest that still awaits the people of God." Our Lord's Day Worship is a temporal picture of that rest. It is a taste. It is a type and shadow of the glorious reality of the eternal joy of our full rest in Christ yet to come. In stanza 4 we are called to employ hymns to worship BUT not just on this one day, "but all our days below".
Benediction (Click here to hear this week's benediction)
---
Questions for Further Discussion
1. In verses 2-3, Paul says he and his mission colleagues "always give thanks to God" for them, and lists the specific faith, love, and hope that they remember. What impression does this give us of Paul's relationship to the Thessalonians?
2. How does our own prayer practice compare to Paul's? How is it similar? Different? What will we do about that?
3. In verse 4, Paul refers to the Thessalonians having been "chosen" by God. How does this affect the way we read the rest of the text?
4. Paul lists the reasons for his statement that the Thessalonians have been chosen in verse 5: because "the message of the gospel came … in power and in the Holy Spirit and with full conviction." What do we understand this to mean? Have we ourselves experienced or heard of similar experiences? What makes this "evidence" of what Paul is talking about? What evidence do we ourselves rely on when we think about our own sense of belonging to the body of Christ?
5. What do you think it meant for the Thessalonians to have become "imitators" of Paul and Silas? What impression does this give us of the way the Thessalonians learned about being God's people? Would we ourselves want some new Christians to imitate us? Or not? Or … in part? Which part(s)? Why? How do we want to follow up on that?
---
Children's Message:
Spiritual Gifts: The Gift of Leadership
Click on these links for a children's bulletin and a coloring page to accompany today's message: Children's Bulletin and Coloring Page.
We are learning about spiritual gifts in the Bible from Romans 12:4-8 where it says:
Verse 6: We all have different gifts. Each gift came because of the grace that God gave us. (ICB)
And in verse 8 it says – If one has the gift of being a leader, he should try hard when he leads. (ICB)
L – LISTEN TO OTHERS
E- ENGAGE, GET INVOLVED, PARTICIPATE
A – ASK OTHERS TO GET INVOLVED AND HELP
D – DECIDE – CHOOSE AND PICK AND MAKE THINGS HAPPEN
In the church, leaders can lead: Sunday School classes, Bible study groups, VBS, Youth ministries, men's and women's ministries, they can be elders, deacons, or pastors.
In the Bible, Paul was a leader and he picked a young man named Timothy to be a leader.
Timothy was a young pastor of a church in the city of Ephesus. Paul wrote two letters to Timothy to help and train Timothy to know how to lead God's people.
In 1 Timothy 4:12, Paul says – You are young, but do not let anyone treat you as if you were not important. Be an example to show the believers how they should live. Show them with your words, with the way you live, with your love, with your faith, and with your pure life. (ICB)
So, let's apply what Paul says – even though you are young, be a leader by – BEING AN EXAMPLE TO OTHERS: In how you talk, act, love, believe, and keep yourself from doing sinful/wrong things.
Then in 2 Timothy 2:24 we read – And a servant of the Lord must not quarrel! He must be kind to everyone. He must be a good teacher. He must be patient. (ICB)
Here Paul tells Timothy that when you lead others you must not: quarrel/pick fights; INSTEAD, BE KIND TO EVERYONE; teach others, and BE PATIENT WITH OTHERS.
We have been saying all along in this series – leaders build other people up, not themselves!
That is how Jesus led others, he was the perfect leader!
Are you a leader? Do you have the spiritual gift of leadership?
If you do – then you are willing to L-E-A-D – listen, engage, ask, and decide and use your gift to glorify God and do good to others.
---