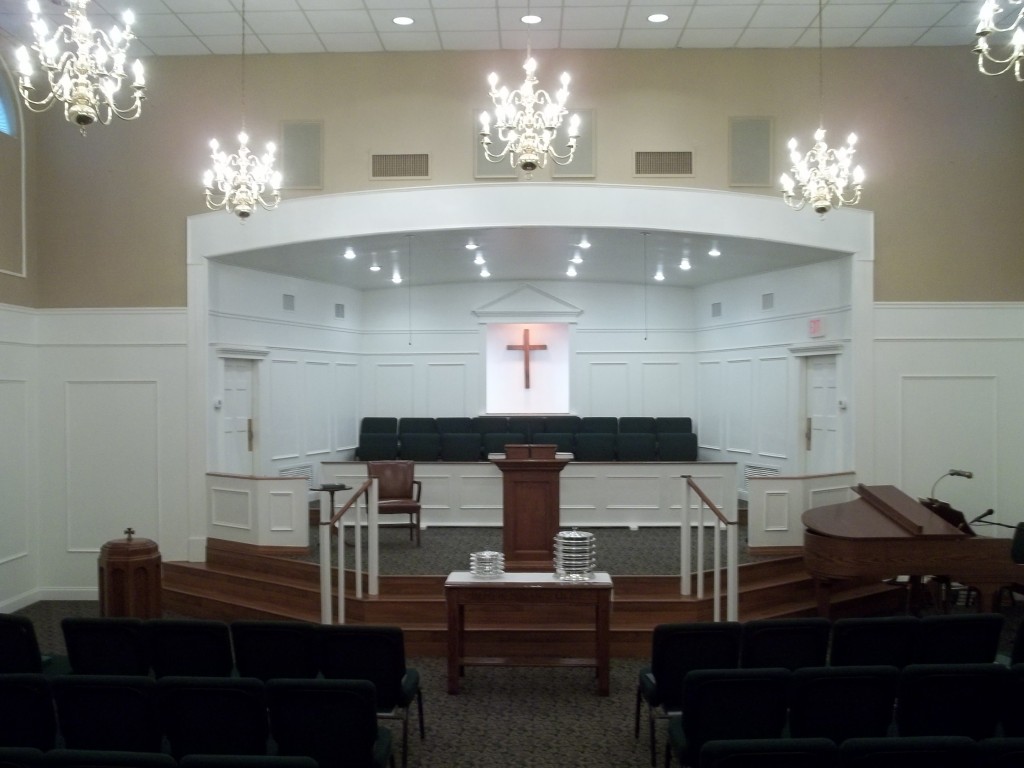 Our text is Philippians 4:21-23.
In these final words, Paul tells the church to greet all the saints, who are saints due to their position "in Christ Jesus." He opened the letter with a greeting to the saints (1:1), and now he closes with a similar expression. He also sends greetings from the "brothers." Once again, we see that Paul rarely lived an isolated life. He lived his Christian life in community, even when he was in prison. Then he broadens his warm greeting by sending greetings from "all the saints." This reference reminds the church in Philippi, and us, about other genuine communities of faith and the solidarity we share.
Click here for the link to download the audio file for the sermon to your computer. The sermon is also available for you in video form. Click here to watch the sermon.
Children's Message: Pastor Chad Sadorf has been including a series of Children's Messages. This series of Children's Messages will look at spiritual gifts. Today's message is provided as a video; this link appears just after the Gloria Patri in the service (where it would normally occur in our church service). Click on these links for a children's bulletin and coloring pages to accompany today's message: Children's Bulletin, Coloring Page 1, and Coloring Page 2.
---
---
Service for Family Worship:
Call to Worship:
Psalm 9:1-2, 10-11
1 I will give thanks to the Lord with my whole heart; I will recount all of your wonderful deeds.
2 I will be glad and exult in you; I will sing praise to your name, O Most High.
10 And those who know your name put their trust in you, for you, O Lord, have not forsaken those who seek you.
11 Sing praises to the Lord, who sits enthroned in Zion! Tell among the peoples his deeds! (ESV)
Prayer:
Almighty God, High King of heaven, as we bow before you this morning, we are in awe of you.
We worship and adore you. You are the standard of perfection.
All things are subject to you and are sustained by you. You are sovereign, all-powerful, all-knowing. You are holy!
You judge perfectly, you carry out your will with infinite precision.
And yet with all your great power, with all your incomprehensible attributes, you draw near to us and love us with perfect love.
And we know that we are loved and accepted unconditionally because we are united to Christ by faith.
You have told us in your word it all began with you; that from before the foundation of the world you have loved your own with an everlasting love.
And because your holy and just wrath has been poured out on Jesus Christ on behalf of your people, your favor has now been turned upon us.
So we worship you this morning, Word and by your Spirit.
Enable us, we pray, to worship you in spirit and in truth. Amen.
Worship in Psalm:
Psalm 2 (Click here for the text of the hymn), (Click here for the piano accompaniment), (Click here for organ accompaniment)
In the morning services this month, our congregation will be singing Psalm 2. In introducing this psalm, Charles Spurgeon quotes the 18th century Biblical translator and commentator, Robert Lowth, "The establishment of David upon his throne, notwithstanding the opposition made to it by his enemies, is the subject of the Psalm. David sustains in it a twofold character, literal and allegorical. If we read over the Psalm, first with an eye to the literal David, the meaning is obvious, and put beyond all dispute by the sacred history … if we take another survey of the Psalm as relative to the person and concerns of the spiritual David, a noble series of events immediately rises to view, and the meaning becomes more evident, as well as more exalted. The colouring which may perhaps seem too bold and glaring for the king of Israel, will no longer appear so when laid upon his great Antitype. After we have thus attentively considered the subjects apart, let us look at them together, and we shall behold the full beauty and majesty of this most charming poem." from The Treasury of David, by Charles Spurgeon, www.spurgeon.org/treasury/treasury.htm
Corporate Scripture Reading: Romans 7:14-20
14 For we know that the law is spiritual, but I am of the flesh, sold under sin. 15 For I do not understand my own actions. For I do not do what I want, but I do the very thing I hate. 16 Now if I do what I do not want, I agree with the law, that it is good. 17 So now it is no longer I who do it, but sin that dwells within me. 18 For I know that nothing good dwells in me, that is, in my flesh. For I have the desire to do what is right, but not the ability to carry it out. 19 For I do not do the good I want, but the evil I do not want is what I keep on doing. 20 Now if I do what I do not want, it is no longer I who do it, but sin that dwells within me. (ESV)
Confession:
Father, we have so often trivialized the gospel by failing to see the depth of our own sin. We confess that even the good works which we bring to you, are defective in both motive and performance. We have also broken your law, in thought, in word, and in deed, in order to please ourselves and other people.
So Father, help us today to know the joy of true repentance, as we look to Christ in faith, and rest in his perfect righteousness. Forgive us for the totality of our sin as you define it. Transform us, and sanctify us by your Word, and through your Spirit, for your glory and for our good. Amen.
Assurance of Pardon:
Anyone who is in Christ is a new person altogether. The past is finished and gone; everything has become fresh and new.
Dear friends, believe the good news of the gospel.
In Jesus Christ, we are forgiven!
Glory be to God.
Affirmation of Faith: The Nicene Creed
We believe in one God, the Father Almighty, Maker of heaven and earth, of all things visible and invisible.
And in one Lord Jesus Christ, the only-begotten Son of God, begotten of his Father before all worlds, God of God, Light of Light, very God of very God, begotten, not made, being of one substance with the Father; by whom all things were made; who for us and for our salvation came down from heaven, and was incarnate by the Holy Spirit of the virgin Mary, and was made man; and was crucified also for us under Pontius Pilate; he suffered and was buried; and the third day he rose again according to the Scriptures, and ascended into heaven, and is seated at the right hand of the Father; and he shall come again, with glory, to judge both the living and the dead; whose kingdom shall have no end.
And we believe in the Holy Spirit, the Lord and giver of life, who proceeds from the Father and the Son; who with the Father and the Son together is worshiped and glorified; who spoke by the prophets; and we believe in one holy catholic† and apostolic church; we acknowledge one baptism for the remission of sins; and we look for the resurrection of the dead, and the life of the world to come. Amen.
†catholic is defined as God's universal church.
Response in Praise:
Gloria Patri (Click here for the text of the hymn), (Click here for voices and accompaniment), (Click here for the piano accompaniment), (Click for the organ accompaniment)
Children's Message:
Spiritual Gifts: The Gift of Giving (Click here to link to the video of the Children's Message)
(You may want to take a moment to pray with your child or children for your family, your church family, our country and world.)
Offertory:
Psalm 24:1-2
19 The earth is the Lord's and the fullness thereof, the world and those who dwell therein, 2 for he has founded it upon the seas and established it upon the rivers. (ESV)
(Online giving is now available for your convenience. This link, https://www.faithpresarp.org/give/, will take you to the page that explains this process and includes a button which will redirect you to the secured giving platform.
Response in Praise: Doxology (Click here for the text of the hymn), (Click here for voices and accompaniment), (Click here for the piano accompaniment), (Click for the organ accompaniment)
Our hymn is a metrical paraphrase of Psalm 119:33-40 and reminds us that not only is our justification by grace, but so is our sanctification. The Psalmist asks for the Lord to "teach us" his way of truth, to "give us" an understanding heart, to "make" us walk in his commandments, to "give" a heart that loves to obey, to "turn our eyes" from vanity, to "cause us" to walk in his ways, to "turn away" our reproach and fear, and to "revive us" in his righteousness.
Pastoral Prayer: (Click here for the Pastoral Prayer)
Prayer for Illumination and Sermon: Gospel Encouragement (Click here to listen to the sermon) (Click here to watch the sermon)
Philippians 4:21-23
Through these four greetings and this one grace,
I. The importance of the communion of saints through life and ministry
II. The invincible converting power of the gospel and of God the Holy Spirit
III. The sanctifying blessing of the prayer of benediction
Hymn #169, My Heart Does Overflow (Click here for the text of the hymn), (Click here for the piano accompaniment), (Click here for the organ accompaniment)
From Psalm 45, the words of our hymn describe a king, his bride and his marriage. The Bridegroom in Psalm 45 is the Messiah King, and the words paint a poetic and powerful picture of the King, praising and exalting him both for who he is and what he does. Stanza 5 ends with a picture of the church, the royal bride. She is glorious because of her connection with the Bridegroom King. She, the church, is joined to the anointed King in a relationship of committed love.
Benediction (Click here to hear this week's benediction)
---
Questions for Further Discussion
1.   What is implied in the greeting, "All the saints greet you"?
2. Who were those who belong to Caesar's household?
3.   What is the meaning of the phrase "with your spirit"?
4.   What has been most meaningful to you in our study of this great epistle? 
---
Children's Message:
Spiritual Gifts: The Gift of Giving
Click on these links for a children's bulletin and coloring pages to accompany today's message: Children's Bulletin, Coloring Page 1, and Coloring Page 2.
We are learning about spiritual gifts in the Bible from Romans 12:4-8 where it says:
Verse 6: We all have different gifts. Each gift came because of the grace that God gave us. (ICB)
And in verse 8 it says – If one has the gift of giving to others, he should give freely. (ICB)
The widow in Mark 12:41-44 is an example of generous giving, there we read: 41 Jesus sat near the Temple money box where people put their gifts. He watched the people put in their money. Many rich people gave large sums of money. 42 Then a poor widow came and gave two very small copper coins. These coins were not worth even a penny. 43 Jesus called his followers to him. He said, "I tell you the truth. This poor widow gave only two small coins. But she really gave more than all those rich people. 44 The rich have plenty; they gave only what they did not need. This woman is very poor. But she gave all she had. And she needed that money to help her live." (ICB)
The BIG value of her gift was not in how much she gave, but what Jesus saw was her BIG heart and how she gave sacrificially and generously.
● If you have the spiritual gift of giving: You like giving more than receiving.
In fact the apostle Paul says in Acts 20:35 that Jesus taught, "It is more blessed to give than to receive." (ICB)
● If you have this spiritual gift, you like to see people's faces light up when they are given what they need.
● And you are likely a sharer and a person who sees someone in need and you cannot wait to help them!
Jesus gave his life for us and he gives us our daily food, clothes and a place to live.
When we give to others we reflect our Giving Savior! And when we give with a happy heart, with an attitude of gratitude, God is glorified, the church is built up, and other people are blessed. Generosity Is Very Encouraging = G-I-V-E.
---