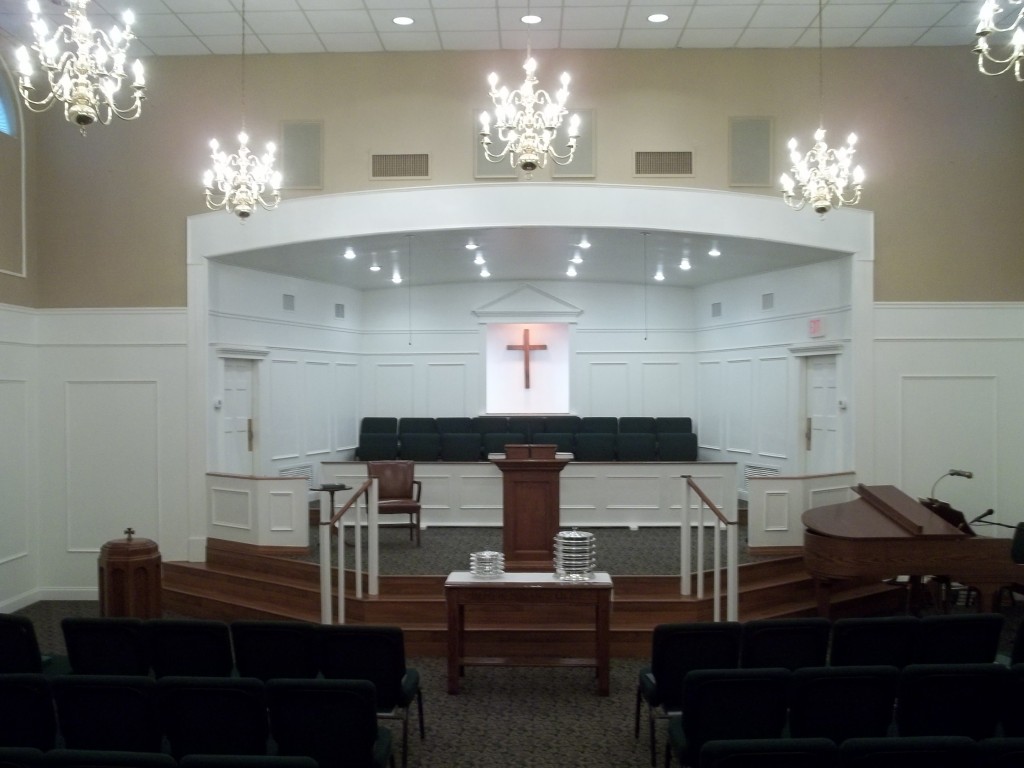 Our text is Philippians 2:12-13.
How do you follow the amazing Christ hymn in Philippians 2:6-11? It is majestic, isn't it? The truths found in it and the scope of it leave us in awe and wonder. But there are also practical implications of this hymn, as Paul points out in this passage. Paul says, "Therefore…" He is looking back to what was just said and preparing to make some strong exhortations. He says work out your salvation with fear and trembling and shine as lights in a dark world.
---
Children's Message: Pastor Chad Sadorf has been including a series of Children's Messages. This series of Children's Messages will look at numbers and counting to help teach Bible stories and doctrine about God, his world, and Jesus. Today's message is provided as a video; this link appears just after the Gloria Patri in the service (where it would normally occur in our church service). Click on these links for a children's bulletin and activity pages to accompany today's message: Children's Bulletin and Activity Pages.
---
Service for Family Worship:
Call to Worship:
Psalm 27:1
1 The Lord is my light and my salvation; whom shall I fear? The Lord is the stronghold of my life; of whom shall I be afraid? (ESV)
Romans 5:1-2
1 Since we have been justified by faith, we have peace with God through our Lord Jesus Christ.
2 Through him we have also obtained access by faith into this grace in which we stand, and we rejoice in hope of the glory of God. (ESV)
Prayer:
Almighty God, you have given us such amazing promises in your word.
You have revealed your attributes and your character, and we confess before you that you are beautiful beyond all comprehension.
You are infinitely worthy of all worship and praise, even if you had never done anything for us.
And yet you have done more than we can possibly imagine or understand.
We are so grateful for your great salvation you have given us—the fact that before the foundation of the world you chose a people for yourself, and you have worked effectually to save us and you hold us firmly in your unbreakable grip.
So we bow before you today as your children, and we ask that you enable us to give ourselves to you—our minds, our wills, and our emotions.
Help us place all our affection upon you Father, Son, and Holy Spirit.
We also ask that you would meet us today at the point of our needs as you define them, that you would continue to conform us into the image of your Son. Enable us to worship you this day in spirit and in truth to your honor and glory. Amen.
Worship in Psalm: Psalm 19 (Click here for the text of the hymn), (Click here for the piano accompaniment), (Click for the organ accompaniment)
Over the course of March, our congregation will be singing Psalm 19. In introducing this psalm, Charles Spurgeon wrote, "In his earliest days the psalmist, while keeping his father's flock, had devoted himself to the study of God's two great books—nature and Scripture; and he had so thoroughly entered into the spirit of these two only volumes in his library that he was able with a devout criticism to compare and contrast them, magnifying the excellency of the Author as seen in both. How foolish and wicked are those who instead of accepting the two sacred tomes, and delighting to behold the same divine hand in each, spend all their wits in endeavouring to find discrepancies and contradictions. We may rest assured that the true "Vestiges of Creation" will never contradict Genesis, nor will a correct "Cosmos" be found at variance with the narrative of Moses. He is wisest who reads both the world-book, and the Word-book as two volumes of the same work, and feels concerning them, 'My Father wrote them both.'" from The Treasury of David, by Charles Spurgeon, www.spurgeon.org/treasury/treasury.htm
Corporate Scripture Reading: Matthew 16:13-18
13 Now when Jesus came into the district of Caesarea Philippi, he asked his disciples, "Who do people say that the Son of Man is?" 14 And they said, "Some say John the Baptist, others say Elijah, and others Jeremiah or one of the prophets." 15 He said to them, "But who do you say that I am?" 16 Simon Peter replied, "You are the Christ, the Son of the living God." 17 And Jesus answered him, "Blessed are you, Simon Bar-Jonah! For flesh and blood has not revealed this to you, but my Father who is in heaven. 18 And I tell you, you are Peter, and on this rock I will build my church, and the gates of hell shall not prevail against it. (ESV)
Confession:
Father, even though you have regenerated us, given us the gift of faith, and enabled us to place our trust in Christ our Savior, we confess that we often do not live up to our calling. We struggle with doubts and fears. We forget your covenant promises to us. We find it difficult to forgive others, even though you have forgiven us. Sometimes we even struggle to follow the simplest of your commands, even though our heart's desire is to obey you in thought, word, and deed. Even so Lord, your grace is overwhelming. So we humbly acknowledge our own spiritual bankruptcy and look to our perfect Savior who is our mediator, advocate, all-sufficient sacrifice, and true righteousness. Forgive us for the totality of our sin, and remove our self-sufficient tendencies. Help us to rest in Christ, and trust you for our spiritual formation—for your glory, for our good, and for Jesus' sake. Amen.
Assurance of Pardon:
Joel 2:12-13
12 "Yet even now," declares the Lord, "return to me with all your heart, with fasting, with weeping, and with mourning; 13 and rend your hearts and not your garments." Return to the Lord your God, for he is gracious and merciful, slow to anger, and abounding in steadfast love; and he relents over disaster.
Affirmation of Faith:
The Apostles' Creed
I believe in God the Father Almighty, Maker of heaven and earth.
I believe in Jesus Christ, his only Son, our Lord, who was conceived by the Holy Spirit, and born of the virgin Mary. He suffered under Pontius Pilate, was crucified, died, and was buried; he descended into hell1. The third day he rose again from the dead. He ascended into heaven and is seated at the right hand of God the Father Almighty. From there he will come to judge the living and the dead.
I believe in the Holy Spirit, the holy catholic2 church, the communion of saints, the forgiveness of sins, the resurrection of the body, and the life everlasting. Amen.
1Christ was under the power of death for a time; he incurred the full penalty for the sins of God's people.
2Catholic is defined as God's universal church.
Response in Praise: Gloria Patri (Click here for the text of the hymn), (Click here for voices and accompaniment), (Click here for the piano accompaniment), (Click for the organ accompaniment)
Children's Message:
The Number 9, Counting and Bible Doctrine (Click here to link to the video of the Children's Message)
(You may want to take a moment to pray with your child or children for your family, your church family, our country and world.)
Offertory:
Psalm 116:12-14
12 What shall I render to the Lord for all his benefits to me? 13 I will lift up the cup of salvation and call on the name of the Lord, 14 I will pay my vows to the Lord in the presence of all his people. (ESV)
Even as we come to the Lord's Table today, we remember the immense cost of our salvation, and God's immeasurable love for us.
Dear Lord, help us be good stewards of all your gifts to us—our very lives—our time, our talents, and our resources. Amen.
(Online giving is now available for your convenience. This link, https://www.faithpresarp.org/give/, will take you to the page that explains this process and includes a button which will redirect you to the secured giving platform.
Response in Praise: Doxology (Click here for the text of the hymn), (Click here for voices and accompaniment), (Click here for the piano accompaniment), (Click for the organ accompaniment)
The author of our hymn, Ray Palmer (1808-1887), grew up in Boston Massachusetts. He attended Yale University. He spent most of his life as a minister of the word of God. This hymn was written when he was only 22. He wrote this as a poem not intending that it would ever be a song. The words are Palmer's response to his spiritual indebtedness and of being overwhelmed by all that he owed to the Lord. Verses 3 and 4 picture the comforting presence of the Savior both in life and in death.
Pastoral Prayer: (Click here for the Pastoral Prayer)
Sermon: Sanctification Begins with Grace
(Click here to listen to the sermon) (Click here to watch the sermon)
Philippians 2:12-13
Hymn #461, Not What My Hands Have Done (Click here for the text of the hymn), (Click here for the piano accompaniment), (Click here for the organ accompaniment)
Horatius Bonar was a Scottish pastor and hymn-writer from the 19th century. This hymn starts by denying that our own efforts can do anything to save us. Then the work of Christ alone is presented as that which can ease our weight of sin, namely Jesus' blood. The work of Christ is then applied to us by grace through faith. Bonar moves on to remind us that grace speaks to us of the pardon offered in the gospel, and invites us to rest in the cross. Finally, the hymn leads us to a glorious culmination of praise as we remember that the goal of the gospel is to gain a living relationship with Jesus, not merely gain forgiveness.
Benediction (Click here to hear this week's benediction)
---
Questions for Further Discussion
There is a significant difference between "working for your salvation" and "working out your salvation." What does Paul mean when he says, "work out your salvation"?
How does living with an awareness of God's presence compel you to strive toward a life of holiness?
Verse 13 tells us God is at work in us to will and to work for his good pleasure. How does this bring comfort to your life as a Christian?
---
Children's Message:
The Number 9, Counting and Bible Doctrine
Click on these links for a children's bulletin and activity pages to accompany today's message: Children's Bulletin and Activity Pages.
---
We have been learning numbers and counting together to help us learn Bible stories and Bible teaching about God, his world and Jesus – and today's number is 10-1 = 9!
9 is used about 49 times in the Bible. Today I want to share with you 3 places in the Bible where 9 is used: 9 fruits, 9 men, 9th hour.
In Galatians 5:22 -23 – we see #9 of our old friends, The Fruits of the Spirit: love, joy, peace, patience, kindness, goodness, faithfulness, gentleness and self-control.
I want to ask God to help me have these nine fruits of the Spirit!
Then in Luke 17:12-19 – Jesus was traveling, "12 he came into a small town. Ten men met him there. These men did not come close to Jesus, because they all had a sickness. 13 But they called to him, "Jesus! Master! Please help us!" 14 When Jesus saw the men, he said, "Go and show yourselves to the priests." While the ten men were going, they were healed. 15 When one of them saw that he was healed, he went back to Jesus. He praised God in a loud voice. 16 Then he bowed down at Jesus' feet and thanked him. (This man was a Samaritan.) 17 Jesus asked, "Ten men were healed; where are the other nine? 18 Is this Samaritan the only one who came back to thank God?" 19 Then Jesus said to him, "Stand up and go on your way. You were healed because you believed." (ICB)
9 healed people didn't say thank you, but one healed person did, he was thankful and he had faith in Jesus.
Then in Matthew 27:45-46, we read – Now from the sixth hour there was darkness over all the land until the ninth hour. 46 And about the ninth hour Jesus cried out with a loud voice, saying, "Eli, Eli, lama sabachthani?" that is, "My God, my God, why have you forsaken me?" (NKJV)
It was the ninth hour when Jesus felt forsaken by God the Father, this was all part of Jesus being the Savior! Jesus did that for me and you!
9 fruits, 9 healed but not thankful, the ninth hour…
I pray to be a person who has the fruits of the Spirit – how about you? I don't want to be like the 9 unthankful people, I want to be like the 1 thankful healed person – how about you?
I want to remember what happened to Jesus at the ninth hour, I believe he did that for me – how about you? I'll see you next time.