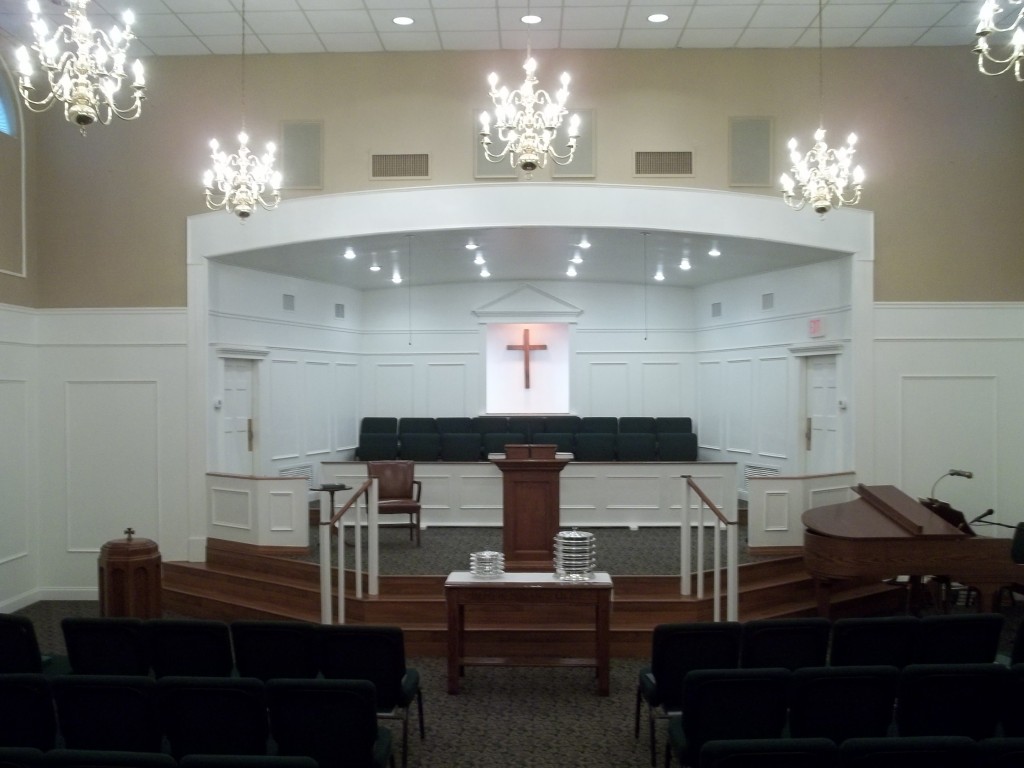 Our text is Philippians 2:19-30.
In our passage this morning, Paul moves from instructions and imperatives (1: 27-2:4; 2:12-18) to living illustrations in 2:19-30. Timothy and Epaphroditus are humble, others-focused servants who provide a shining example of working out their salvation in practical acts of serving without grumbling (2:12-14). Joy comes when you get things in the right order. These two men love Jesus and others. We shouldn't elevate them beyond reason, but we must see them as Paul did, using them as examples worth watching, and as men worth following. Regarding imitation, we should say, "Imitate them, as they follow after the example that is in Jesus Christ" (2:5-11).
---
Children's Message: Pastor Chad Sadorf has been including a series of Children's Messages. This series of Children's Messages will look at numbers and counting to help teach Bible stories and doctrine about God, his world, and Jesus. Today's message is provided as a video; this link appears just after the Gloria Patri in the service (where it would normally occur in our church service). Click on these links for a children's bulletin and activity pages to accompany today's message: Children's Bulletin, and Activity Page, and Coloring Page.
---
Service for Family Worship:
Call to Worship:
Psalm 84:1-4, 10
1 How lovely is your dwelling place, O Lord of hosts!
2 My soul longs, yes, faints for the courts of the Lord; my heart and flesh sing for joy to the living God.
3 Even the sparrow finds a home, and the swallow a nest for herself, where she may lay her young, at your altars, O Lord of hosts, my King and my God.
4 Blessed are those who dwell in your house, ever singing your praise!
10 For a day in your courts is better than a thousand elsewhere. I would rather be a doorkeeper in the house of my God than dwell in the tents of wickedness. (ESV)
Prayer:
Almighty God, this morning as we bow in your presence and offer our hearts to you, we give thanks, worship, and praise not as we ought but as we are able.
Oh Lord, we are so grateful for the privilege of dwelling in your midst because of the finished work of your son, Jesus Christ. Through the regeneration of our hearts and the instrument of faith, you have redeemed us, adopted us, and brought us into a relationship with you, Father, Son, and Holy Spirit.
So by your Spirit, would you enable us to encounter you today in the singing of hymns, in the affirmation of faith, in the giving of your tithes and our offerings, in the preaching of your Word, and in our fellowship with one another.
Father as we have come here today to worship, would you prevent us from just going through the motions, or just doing something religious.
Instead would you work throughout this service, and make yourself known to us. Reveal to us again this day the resurrected and the living Christ, that we would trust in Him and continue to grow in our relationship with you. In Jesus' name we pray. Amen.
Worship in Psalm: Psalm 19:7-14 (Click here for the text of the hymn), (Click here for the piano accompaniment), (Click for the organ accompaniment)
Over the course of March, our congregation will be singing Psalm 19. In introducing this psalm, Charles Spurgeon wrote, "In his earliest days the psalmist, while keeping his father's flock, had devoted himself to the study of God's two great books—nature and Scripture; and he had so thoroughly entered into the spirit of these two only volumes in his library that he was able with a devout criticism to compare and contrast them, magnifying the excellency of the Author as seen in both. How foolish and wicked are those who instead of accepting the two sacred tomes, and delighting to behold the same divine hand in each, spend all their wits in endeavouring to find discrepancies and contradictions. We may rest assured that the true "Vestiges of Creation" will never contradict Genesis, nor will a correct "Cosmos" be found at variance with the narrative of Moses. He is wisest who reads both the world-book, and the Word-book as two volumes of the same work, and feels concerning them, 'My Father wrote them both.'" from The Treasury of David, by Charles Spurgeon, www.spurgeon.org/treasury/treasury.htm
Corporate Scripture Reading:
Leader: Blessed are all who fear the Lord, who walk in his ways!
All: Your word is a lamp unto my feet and a light unto my path.
Leader: Blessed is the man who fears the Lord, who finds great delight in his commands!
All: Direct me in the path of your commands, for there I find delight.
Leader: And God spoke all these words, saying:
I am the Lord your God, who brought you out of the land of Egypt, out of the house of slavery. You shall have no other gods before me.
You shall not make for yourself a carved image, or any likeness of anything that is in heaven above, or that is in the earth beneath, or that is in the water under the earth. You shall not bow down to them or serve them, for I the Lord your God am a jealous God, visiting the iniquity of the fathers on the children to the third and the fourth generation of those who hate me, but showing steadfast love to thousands of those who love me and keep my commandments. You shall not take the name of the Lord your God in vain, for the Lord will not hold him guiltless who takes his name in vain
Remember the Sabbath day, to keep it holy. Six days you shall labor, and do all your work, but the seventh day is a Sabbath to the Lord your God. On it you shall not do any work, you, or your son, or your daughter, your male servant, or your female servant, or your livestock, or the sojourner who is within your gates. For in six days the Lord made heaven and earth, the sea, and all that is in them, and rested on the seventh day. Therefore the Lord blessed the Sabbath day and made it holy.
All: Wash away all my iniquity and cleanse me from sin. For I know my transgressions, and my sin is always before me.
Leader: Honor your father and your mother, that your days may be long in the land that the Lord your God is giving you.
You shall not murder.
You shall not commit adultery.
You shall not steal.
You shall not bear false witness against your neighbor.
You shall not covet your neighbor's house; you shall not covet your neighbor's wife, or his male servant, or his female servant, or his ox, or his donkey, or anything that is your neighbor's.
All: If you, O Lord, kept a record of sins, O Lord, who could stand? But with you there is forgiveness; therefore you are feared.
– Selected passages from Psalm 119, Deuteronomy 5, Psalm 51, and Psalm 130
Confession:
Father, you tell us in your Word that whatever does not proceed from faith is sin. We confess that we have frequently relaxed our faith.
We often allow ourselves to become cynical, and our cynicism boils over with slander, criticism, prayerlessness, pessimism, and faithlessness. How easily we've allowed ourselves to crumple under the stresses of our lives.
Father, forgive us for the totality of our sin, especially when we doubt your promises, and grumble against your good providence. Then would you transform us, and sanctify us by your word, and through your Spirit. Amen.
.
Assurance of Pardon: Romans 5:8
8 but God shows his love for us in that while we were still sinners, Christ died for us. (ESV)
Affirmation of Faith:
The Westminster Larger Catechism
Question 83:
What is the communion in glory with Christ which the members of the invisible church enjoy in this life?
Answer:
The members of the invisible church have communicated to them in this life the firstfruits of glory with Christ, as they are members of him their head, and so in him are interested in that glory which he is fully possessed of; and, as an earnest thereof, enjoy the sense of God's love, peace of conscience, joy in the Holy Ghost, and hope of glory; as, on the contrary, sense of God's revenging wrath, horror of conscience, and a fearful expectation of judgment, are to the wicked the beginning of their torments which they shall endure after death.
Response in Praise: Gloria Patri (Click here for the text of the hymn), (Click here for voices and accompaniment), (Click here for the piano accompaniment), (Click for the organ accompaniment)
Children's Message:
The Number 24, Counting and Bible Doctrine (Click here to link to the video of the Children's Message)
(You may want to take a moment to pray with your child or children for your family, your church family, our country and world.)
Offertory:
Proverbs 11:24-25
24 One gives freely, yet grows all the richer; another withholds what he should give, and only suffers want. 25 Whoever brings blessing will be enriched, and one who waters will himself be watered. (ESV)
God has entrusted to us the privilege of stewardship. In his grace, he even blesses us as we give. Glory to God!
(Online giving is now available for your convenience. This link, https://www.faithpresarp.org/give/, will take you to the page that explains this process and includes a button which will redirect you to the secured giving platform.
Response in Praise: Doxology (Click here for the text of the hymn), (Click here for voices and accompaniment), (Click here for the piano accompaniment), (Click for the organ accompaniment)
"All Glory, Laud, and Honor" had its Latin text written around 820 by Theodulph of Orleans. The text gives a general description of the triumphal entrance into Jerusalem as found in all four Gospels. Theodulph inserts children into his hymn in stanza 3. The biblical basis for this might be Matthew 21:16: "Do you hear what these children are saying?" they asked him. "Yes," replied Jesus, "have you never read, "'From the lips of children and infants you, Lord, have called forth your praise'?"
Pastoral Prayer: (Click here for the Pastoral Prayer)
Prayer for Illumination and Sermon: True Gospel Joy
(Click here to listen to the sermon) (Click here to watch the sermon)
Philippians 2:19-30
I. Gospel joy does not mean the absence of trial
II. The Christian life is a life of companionship
III. Christians always seek first the interests of Christ
IV. Christians are ready to die for the work of Christ
Hymn #237, Ride On, Ride On in Majesty! (Click here for the text of the hymn), (Click here for the piano accompaniment), (Click here for the organ accompaniment)
Henry H. Milman wrote this text around 1827. Milman was a playwright, professor of poetry, historian, theologian, churchman, and hymn writer. The text unites meekness and majesty, sacrifice and conquest, suffering and glory–all central to the gospel for Palm Sunday. Majesty is the text's theme as the writer helps us to experience the combination of victory and tragedy that characterizes the Triumphal Entry.
Benediction (Click here to hear this week's benediction)
---
Questions for Further Discussion
Does faithful Christian living always look extraordinary? Why or why not?
How do you cultivate a servant heart of selflessness rather than selfishness?
What made Timothy a great friend to Paul? Do you have friends like that? Are you a friend like that?
Consider each description. Why does Paul call Epaphroditus his "brother," "fellow worker," "fellow soldier," and "messenger and minister"?
Consider the ways God has had mercy on you today. Pause and thank God for the evidences of his grace.
---
Children's Message:
The Number 24, Counting and Bible Doctrine
Click on these links for a children's bulletin and activity pages to accompany today's message: Children's Bulletin, and Activity Page, and Coloring Page.
---
We have been learning numbers and counting together to help us learn Bible stories and Bible teaching about God, his world, and Jesus – there are how many hours in a day – #24!
The Bible uses 24 about 20 times: we do know that there were 24 divisions of priests (1 Chronicles 24:1-19) and 24 temple singers (1 Chronicles 25).
But did you know that there is a giant in the Bible, maybe related to Goliath, and there is something special about him: in 1 Chronicles 20:6 we read: And there was again war at Gath, where there was a man of great stature, who had six fingers on each hand and six toes on each foot, twenty-four in number, and he also was descended from the giants. (ESV)
In the Bible, in the Book of Revelation 4:4 it says, Surrounding the throne were twenty-four other thrones, and seated on them were twenty-four elders. They were dressed in white and had crowns of gold on their heads. (NIV)
Around God's heavenly throne are 24 elders, each wearing crowns and sitting on thrones and dressed in white.
We don't know for sure who these twenty-four elders are but they most likely represent the Church.
The twelve tribes of The Old Testament along with the twelve apostles of the New Testament together: 12+12 = 24. They represent the church of all ages. Dressed in white – they have the perfect clothing of forgiveness and acceptance given to them by Jesus. They sit on thrones; that shows they are ruling and reigning with Jesus. (Revelation 2:26-27, 5:10, 20:4; Matthew 19:28; Luke 22:30). Their golden crowns show they are victorious, they have successfully competed and won the victory, as Jesus promised (Revelation 2:10; 2 Timothy 4:8; James 1:12).
In verses 10 and 11 of Revelation 4 – the twenty-four elders fall down before him who is seated on the throne and worship him who lives forever and ever. They cast their crowns before the throne, saying,
11 "Worthy are you, our Lord and God,
to receive glory and honor and power,
for you created all things,
and by your will they existed and were created." (ESV)
24 elders, on 24 thrones, with 24 crowns that they all gave to God as a worship gift.
The Bible says one day we will receive a crown of glory and reign with Jesus and worship God forever with joy and love. If you love Jesus and put your faith in him – you will be like those who are gathered to worship God just like these elders!