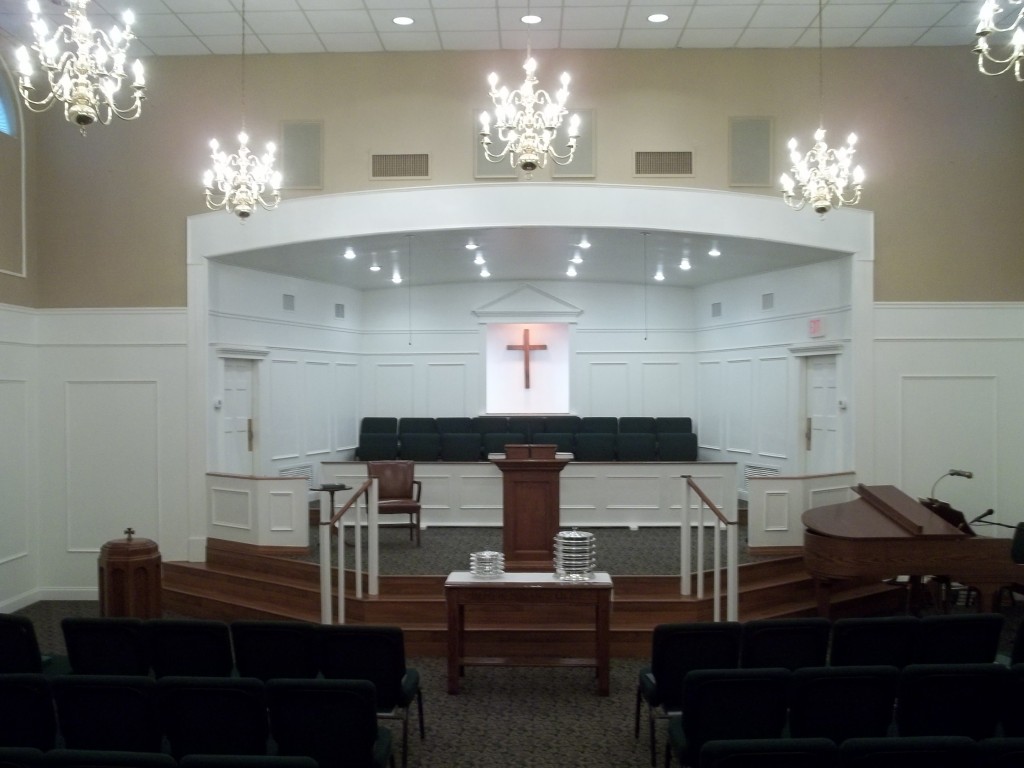 Our text is Philippians 2:14-15.
Practically, what does it look like to work out our salvation with fear and trembling? While it certainly means following Jesus and pursuing godly living as defined in the Scriptures, Paul moves on in the next pericope to describe the attitude one should have as he or she obeys Christ and pursues likeness to him. Indeed, working out our salvation is a comprehensive concept; as Paul says, "Do all things without grumbling or questioning" (verse 14). Following Jesus involves following him in every area of life. His challenge brings us to this connection; namely, between complaining and shining.
---
Children's Message: Pastor Chad Sadorf has been including a series of Children's Messages. This series of Children's Messages will look at numbers and counting to help teach Bible stories and doctrine about God, his world, and Jesus. Today's message is provided as a video; this link appears just after the Gloria Patri in the service (where it would normally occur in our church service). Click on these links for a children's bulletin and activity pages to accompany today's message: Children's Bulletin and Activity Pages.
---
Service for Family Worship:
Call to Worship:
Psalm 24:1-4
1 The earth is the Lord's and the fullness thereof, the world and those who dwell therein, 2 for he has founded it upon the seas and established it upon the rivers. 3 Who shall ascend the hill of the Lord? And who shall stand in his holy place? 4 He who has clean hands and a pure heart, who does not lift up his soul to what is false and does not swear deceitfully. (ESV)
Psalm 96:9-10
1 Since we have been justified by faith, we have peace with God through our Lord Jesus Christ.
9 Worship the Lord in the splendor of holiness; tremble before him, all the earth! 10 Say among the nations, "The Lord reigns! Yes, the world is established; it shall never be moved; he will judge the peoples with equity."(ESV)
Prayer:
Almighty God, as your people we humble ourselves before you. You are infinite, eternal, and unchangeable in your being, wisdom, power, holiness, justice, goodness, and truth.
You created, rule over, and sustain everything that exists, the things which are seen and unseen.
You are holy beyond our comprehension.
And even as your children, who have been redeemed by the blood of your own son, we admit that there are times in our lives when our sin seems more real to us than you do.
When we think of coming before you in worship, according to our own ability we have none.
We look down at our hands, and they are dirty.
We look into our hearts, and they are not pure.
But because of your matchless grace and the finished work of your son, you welcome us, and in the gospel we are utterly accepted in him.
You have also promised to increasingly transform us by your word and Spirit.
So even as your only son Jesus ascended into the heavens, may we also ascend there in heart and mind, as we offer ourselves to you in worship. In the matchless name of Jesus we pray. Amen.
Worship in Psalm: Psalm 19:1-6 (Click here for the text of the hymn), (Click here for the piano accompaniment), (Click for the organ accompaniment)
Over the course of March, our congregation will be singing Psalm 19. In introducing this psalm, Charles Spurgeon wrote, "In his earliest days the psalmist, while keeping his father's flock, had devoted himself to the study of God's two great books—nature and Scripture; and he had so thoroughly entered into the spirit of these two only volumes in his library that he was able with a devout criticism to compare and contrast them, magnifying the excellency of the Author as seen in both. How foolish and wicked are those who instead of accepting the two sacred tomes, and delighting to behold the same divine hand in each, spend all their wits in endeavouring to find discrepancies and contradictions. We may rest assured that the true "Vestiges of Creation" will never contradict Genesis, nor will a correct "Cosmos" be found at variance with the narrative of Moses. He is wisest who reads both the world-book, and the Word-book as two volumes of the same work, and feels concerning them, 'My Father wrote them both.'" from The Treasury of David, by Charles Spurgeon, www.spurgeon.org/treasury/treasury.htm
Corporate Scripture Reading: Exodus 20:1-17
1 And God spoke all these words, saying, 2 "I am the Lord your God, who brought you out of the land of Egypt, out of the house of slavery. 3 "You shall have no other gods before me. 4 "You shall not make for yourself a carved image, or any likeness of anything that is in heaven above, or that is in the earth beneath, or that is in the water under the earth. 5 You shall not bow down to them or serve them, for I the Lord your God am a jealous God, visiting the iniquity of the fathers on the children to the third and the fourth generation of those who hate me, 6 but showing steadfast love to thousands of those who love me and keep my commandments. 7 "You shall not take the name of the Lord your God in vain, for the Lord will not hold him guiltless who takes his name in vain. 8 "Remember the Sabbath day, to keep it holy. 9 Six days you shall labor, and do all your work, 10 but the seventh day is a Sabbath to the Lord your God. On it you shall not do any work, you, or your son, or your daughter, your male servant, or your female servant, or your livestock, or the sojourner who is within your gates. 11 For in six days the Lord made heaven and earth, the sea, and all that is in them, and rested on the seventh day. Therefore the Lord blessed the Sabbath day and made it holy. 12 "Honor your father and your mother, that your days may be long in the land that the Lord your God is giving you. 13 "You shall not murder. 14 "You shall not commit adultery. 15 "You shall not steal. 16 "You shall not bear false witness against your neighbor. 17 "You shall not covet your neighbor's house; you shall not covet your neighbor's wife, or his male servant, or his female servant, or his ox, or his donkey, or anything that is your neighbor's." (ESV)
Confession:
Almighty and gracious God, we are thankful that your mercy is
higher than the heavens,
wider than our wanderings,
deeper than all our sin.
Forgive our careless attitudes toward your purposes,
our refusal to relieve the suffering of others,
our envy of those who have more than we have,
our obsession with creating a life of constant pleasure,
our indifference to the treasures of heaven,
our neglect of your wise and gracious law.Forgive us, we pray, for the totality of our sin as you define it.

By your grace and the power of Holy Spirit transform us
so that we may desire what is good,
love what you love,
and do what you command,
through Jesus Christ our Lord. Amen.
Assurance of Pardon:
Romans 5:1
1 Therefore, since we have been justified by faith, we have peace with God through our Lord Jesus Christ. (ESV)
Affirmation of Faith:
The Westminster Larger Catechism
Question 79:
May not true believers, by reason of their imperfections, and the many temptations and sins they are overtaken with, fall away from the state of grace ?
Answer:
True believers, by reason of the unchangeable love of God, and his decree and covenant to give them perseverance, their inseparable union with Christ, his continual intercession for them, and the Spirit and seed of God abiding in them, can neither totally nor finally fall away from the state of grace, but are kept by the power of God through faith unto salvation.
Question 80:
Can true believers be infallibly assured that they are in the estate of grace, and that they shall persevere therein unto salvation?
Answer:
Such as truly believe in Christ, and endeavor to walk in all good conscience before him, may, without extraordinary revelation, by faith grounded upon the truth of God's promises, and by the Spirit enabling them to discern in themselves those graces to which the promises of life are made, and bearing witness with their spirits that they are the children of God, be infallibly assured that they are in the estate of grace, and shall persevere therein unto salvation.
Response in Praise: Gloria Patri (Click here for the text of the hymn), (Click here for voices and accompaniment), (Click here for the piano accompaniment), (Click for the organ accompaniment)
Children's Message:
The Number 10, Counting and Bible Doctrine (Click here to link to the video of the Children's Message)
(You may want to take a moment to pray with your child or children for your family, your church family, our country and world.)
Offertory:
Our stewardship of everything God has entrusted to us (time, talents, and resources), is a measure of our spiritual maturity.
So, as we worship the Lord in giving, let us meditate upon, and long to hear the words of Jesus when he said,
21 Well done, good and faithful servant. You have been faithful over a little; I will set you over much. Enter into the joy of your master.' (Matthew 25:21 ESV)
(Online giving is now available for your convenience. This link, https://www.faithpresarp.org/give/, will take you to the page that explains this process and includes a button which will redirect you to the secured giving platform.
Response in Praise: Doxology (Click here for the text of the hymn), (Click here for voices and accompaniment), (Click here for the piano accompaniment), (Click for the organ accompaniment)
How do you express the inexpressible mystery of the Creator whose name was unutterable in Hebrew Scriptures? How do you sing about the One who is beyond all words? Walter Chalmers Smith (1824-1908) attempted this in our hymn. A Scottish Free Church minister educated at the Universities of Aberdeen and Edinburgh, Smith served congregations in London, Glasgow, and Edinburgh. The obvious scriptural foundation for stanza one is 1 Timothy 1:17: "Now unto the King eternal, immortal, invisible, the only wise God, be honor and glory for ever and ever. Amen." The central metaphor of light suggests the transcendence of the One who was known as I Am. Stanza one refers to this One as "light inaccessible hid from our eyes." In stanza two the metaphor is elaborated by describing the Holy One as "silent as light." Stanza four has two references to light: "thou dwellest in light" and "'tis only the splendor of light hideth thee." Let us sing of the One made known to us in Christ!
Pastoral Prayer: (Click here for the Pastoral Prayer)
Sermon: Live as Lights in a Dark World
(Click here to listen to the sermon) (Click here to watch the sermon)
Philippians 2:14-15
We are not to grumble and sinfully question God
We are to live as children of God
We are to be lights in a dark world
Hymn #129, I Belong to Jesus (Click here for the text of the hymn), (Click here for the piano accompaniment), (Click here for the organ accompaniment)
Maud Frazer Jackson lived from (1873-1950). She was a religious author, poet, and music compiler, who published her collections of music, including 400 hymns called "Hymns about forgiveness!"
The words of our hymn are rooted in 1 Corinthians 6:19,20: 19"Do you not know that your bodies are temples of the Holy Spirit, who is in you, whom you have received from God? You are not your own; 20 you were bought at a price. Therefore honor God with your bodies." Here in these words we find our adoption as daughters and sons of Our Lord and King. Let us all make sure we know the answer to the question: Do I belong to Jesus?
Benediction (Click here to hear this week's benediction)
---
Questions for Further Discussion
How do grumbling and complaining damage your witness?
We are all tempted to complain and grumble. How can you maintain a joyful attitude in the face of the problems of life?
What do Paul's images of running and laboring teach you about the nature of your ministry to others?
Paul also uses the image of being a "sacrificial offering." What does this image teach you about the nature of your ministry to others? How can you cultivate this type of mindset for the advancement of the gospel?
---
Children's Message:
The Number 10, Counting and Bible Doctrine
Click on these links for a children's bulletin and activity pages to accompany today's message: Children's Bulletin and Activity Pages.
---
We have been learning numbers and counting together to help us learn Bible stories and Bible teaching about God, his world and Jesus – and today's number is: the #10!
In the Bible, the number 10 is used 242 times. I want to mention quickly one well-known "10" in the Bible and then focus on the other "10"!
Where in the Bible does God use the #10 of something as a judgment on sin? How about in Exodus Chapters 7-12 where we see…the 10 plagues God sent on Egypt. As I was thinking about the plagues – Do you know that we have some of the things God used right here in Florida: frogs, flies, hail, lice, locusts ?
For our other #10, I want to focus on – the…. 10 Commandments that God gave his people.
God gave us the 10 Commandments to show how he wanted us to live and to show us his holiness. We see these 10 Commandments in Exodus 20:3-17: Let me summarize them…
Put God first
No idols
Keep God's good name
Worship & rest
Obey Authority/especially Mom and Dad
Value life
Honor & keep promises/like in marriage
Don't steal
Tell the truth/no lying
Be content/not jealous of what others have
In Deuteronomy 4:13 it says – He announced his covenant to you. That covenant is the Ten Commandments. He commanded you to obey them. Then he wrote them down on two stone tablets. (NIRV)
Jesus was the perfect example of keeping God's rules. Jesus obeyed all of the commandments because we won't and don't! And when Jesus is your Savior and Lord, when his love fills your heart, you can do what Jesus said in John 14:15 – if you love me keep my commandments (NIV)!