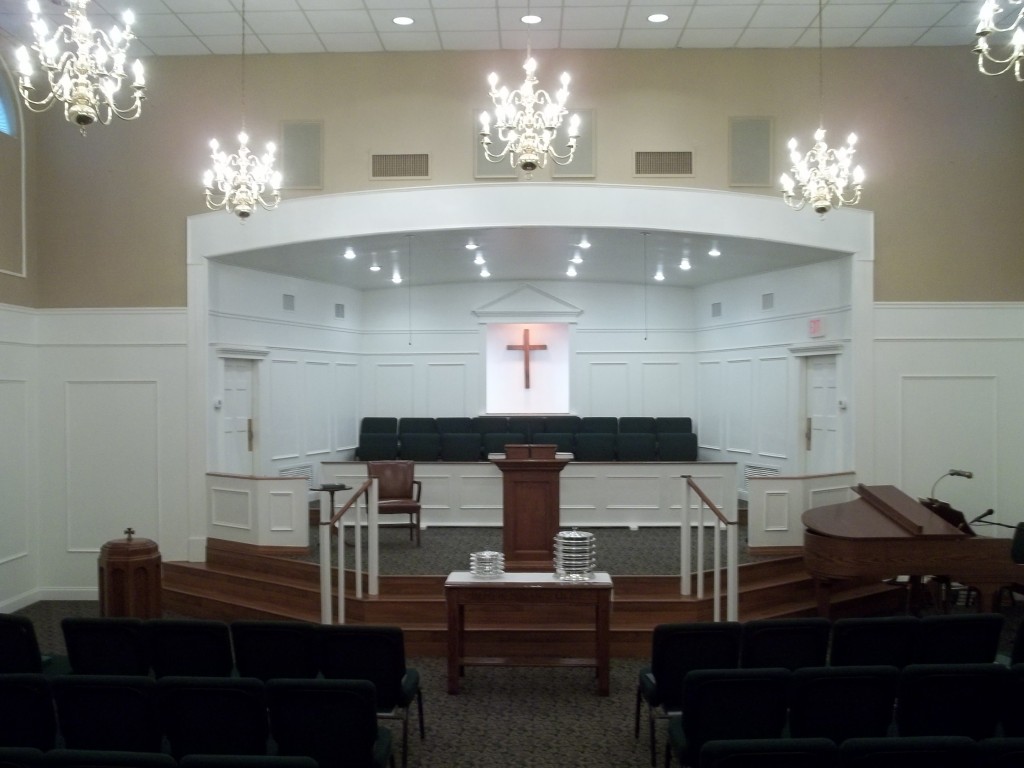 Our text is 1 Thessalonians 2:1-16.
These verses review Paul's ministry in Thessalonica. Although Paul was thankful that the believers there were aware of the conduct he had displayed when he had ministered among them, there is a polemical undertone to this passage. It appears that Paul was responding to certain doubts or criticisms implied or levied against him. He implicitly defended the source, style, substance, and success of his gospel ministry among them. At the same time, by recalling the work he and his companions had done there, he gave the Thessalonians a pattern of his loving service.
Click here for the link to download the audio file for the sermon to your computer. The sermon is also available for you in video form. Click here to watch the sermon.
Children's Message: Pastor Chad Sadorf has been including a series of Children's Messages. For this Sunday, he will be out of town, so there is no video included on this Worship Guide, but he will be back next Sunday! Click on this link for a children's bulletin to accompany Pastor Adams' message: Children's Bulletin.
---
---
Service for Family Worship:
Call to Worship:
Hebrews 1:1-4
1 Long ago, at many times and in many ways, God spoke to our fathers by the prophets, 2 but in these last days he has spoken to us by his Son, whom he appointed the heir of all things, through whom also he created the world. 3 He is the radiance of the glory of God and the exact imprint of his nature, and he upholds the universe by the word of his power. After making purification for sins, he sat down at the right hand of the Majesty on high, 4 having become as much superior to angels as the name he has inherited is more excellent than theirs. (ESV)
Prayer:
Almighty God, your majesty, your holiness, and your glory are beyond our comprehension. We come before you today acutely aware that there is nothing in ourselves that would commend us before you. We are not good enough to be here. We don't know enough to be here. And we haven't been obedient enough to be here. But we are here because you said so, and because you have welcomed us as sons and daughters through the blood of your own Son. And you have given us a desire to worship you.
So we stand humbly, but boldly in your presence, because of the righteousness of Christ. Will you enable and guide our worship by the power of your Spirit that we may worship you in spirit and in truth, and that our worship would be pleasing and acceptable in your sight. In Jesus' name we pray. Amen.
Worship in Psalm:
Psalm 148 (Click here for the text of the hymn), (Click here for the piano accompaniment), (Click here for organ accompaniment)
In the morning services this month, our congregation will be singing Psalm 148. In introducing this psalm, Charles Spurgeon writes, "The song is one and indivisible. It seems almost impossible to expound it in detail, for a living poem is not to be dissected verse by verse. It is a song of nature and of grace. As a flash of lightning flames through space, and enwraps both heaven and earth in one vestment of glory, so doth the adoration of the Lord in this Psalm light up all the universe, and cause it to glow with a radiance of praise. The song begins in the heavens, sweeps downward to dragons and all deeps, and then ascends again, till the people near unto Jehovah take up the strain. For its exposition the chief requisite is a heart on fire with reverent love to the Lord over all, who is to be blessed for ever." from The Treasury of David, by Charles Spurgeon, www.spurgeon.org/treasury/treasury.htm
Corporate Scripture Reading:
Romans 3:10-20
10 as it is written: "None is righteous, no, not one; 11 no one understands; no one seeks for God. 12 All have turned aside; together they have become worthless; no one does good, not even one." 13 "Their throat is an open grave; they use their tongues to deceive." "The venom of asps is under their lips." 14 "Their mouth is full of curses and bitterness." 15 "Their feet are swift to shed blood; 16 in their paths are ruin and misery, 17 and the way of peace they have not known." 18 "There is no fear of God before their eyes." 19 Now we know that whatever the law says it speaks to those who are under the law, so that every mouth may be stopped, and the whole world may be held accountable to God. 20 For by works of the law no human being will be justified in his sight, since through the law comes knowledge of sin. (ESV)
Confession:
Merciful Almighty God, we confess that with us there is an abundance of sin, but in you there is the fullness of righteousness and abundance of mercy. In our flesh, we are spiritually poor and weak, but you are infinitely rich and all powerful. And our Lord Jesus Christ came to be merciful to the poor and weak. Strengthen our faith and trust in you. We are often weak in faith; strengthen us. We are often cold in love; warm us, and make our hearts passionate for you that our love may go out to one another and to our neighbors. Through Jesus Christ our Lord. Amen.
Assurance of Pardon: 2 Corinthians 5:21
21 For our sake he [GOD] made him [JESUS] to be sin who knew no sin, so that in him we might become the righteousness of God. (ESV)
The wonderful promise we have in the gospel is that according to the finished work of Christ and through the instrument of faith, we are forgiven. Glory be to God!
Affirmation of Faith: The Westminster Larger Catechism
Question 67:
What is effectual calling?
Answer:
Effectual calling is the work of God's almighty power and grace, whereby (out of his free and special love to his elect, and from nothing in them moving him thereunto) he doth, in his accepted time, invite and draw them to Jesus Christ, by his Word and Spirit; savingly enlightening their minds, renewing and powerfully determining their wills, so as they (although in themselves dead in sin) are hereby made willing and able freely to answer his call, and to accept and embrace the grace offered and conveyed therein.
Question 68:
Are the elect only effectually called?
Answer:
All the elect, and they only, are effectually called: although others may be, and often are, outwardly called by the ministry of the Word, and have some common operations of the Spirit; who, for their willful neglect and contempt of the grace offered to them, being justly left in their unbelief, do never truly come to Jesus Christ.
Response in Praise:
Gloria Patri (Click here for the text of the hymn), (Click here for voices and accompaniment), (Click here for the piano accompaniment), (Click for the organ accompaniment)
Offertory:
In Paul's second letter to the Corinthians chapter 8, the gift of the Macedonian believers went beyond the tithe. Paul said they gave themselves first to the Lord (verse 5). No doubt in their act of giving they reaffirmed the stewardship of their entire lives given to God. As we bring our tithes and offerings this morning may we have the same heart as our Macedonian brothers and sisters.
(Online giving is now available for your convenience. This link, https://www.faithpresarp.org/give/, will take you to the page that explains this process and includes a button which will redirect you to the secured giving platform.
Response in Praise: Doxology (Click here for the text of the hymn), (Click here for voices and accompaniment), (Click here for the piano accompaniment), (Click for the organ accompaniment)
The text for "O Worship the King" was inspired by a paraphrasing of Psalm 104 and was written as more of a meditation on the themes of the Psalm. The first three stanzas focus on God's Creation. The last two stanzas (four and five) focus on God's compassion for the creatures on earth, and confirm our triumphant worship together with the angels.
Pastoral Prayer: (Click here for the Pastoral Prayer)
Prayer for Illumination and Sermon: Gospel-centered Motivation (Click here to listen to the sermon) (Click here to watch the sermon)
1 Thessalonians 2:1-16
Hymn #646, Jesus, Thou Joy of Loving Hearts (Click here for the text of the hymn), (Click here for the piano accompaniment), (Click here for the organ accompaniment)
This hymn, attributed to Bernard of Clairvaux (who lived circa 1150), was born of well-to-do parents in central France — in what we know as burgundy wine country — near Dijon. He became a confidant of popes and a preacher to the King of France. In spite of these remarkable achievements, the focus of his life remained twofold: Knowing God and serving the needy. This hymn is prayer-like. It celebrates the joy that we have in Jesus — the peace that his love imparts and the filling of our souls through the bread and wine of the Lord's Supper.
Benediction (Click here to hear this week's benediction)
---
Questions for Further Discussion
1. How did Paul's "shameful treatment" in Philippi (see Acts 16:19-40) influence his ministry to the Thessalonians (1 Thessalonians 2:1-2)?
2. What does Paul clarify concerning his message, motives, and methods—the "what," the "why," and the "how"—in the first several verses of 1 Thessalonians 2?
3. How do you specifically see Paul's pastoral heart on display in verses 1-16?
4. Even while defending his genuineness as an apostle, Paul's perspective is relentlessly God-centered. When recounting your experiences, sharing your testimony, or explaining your actions, who is the main character—the hero—of your words, and why?
---
---
---