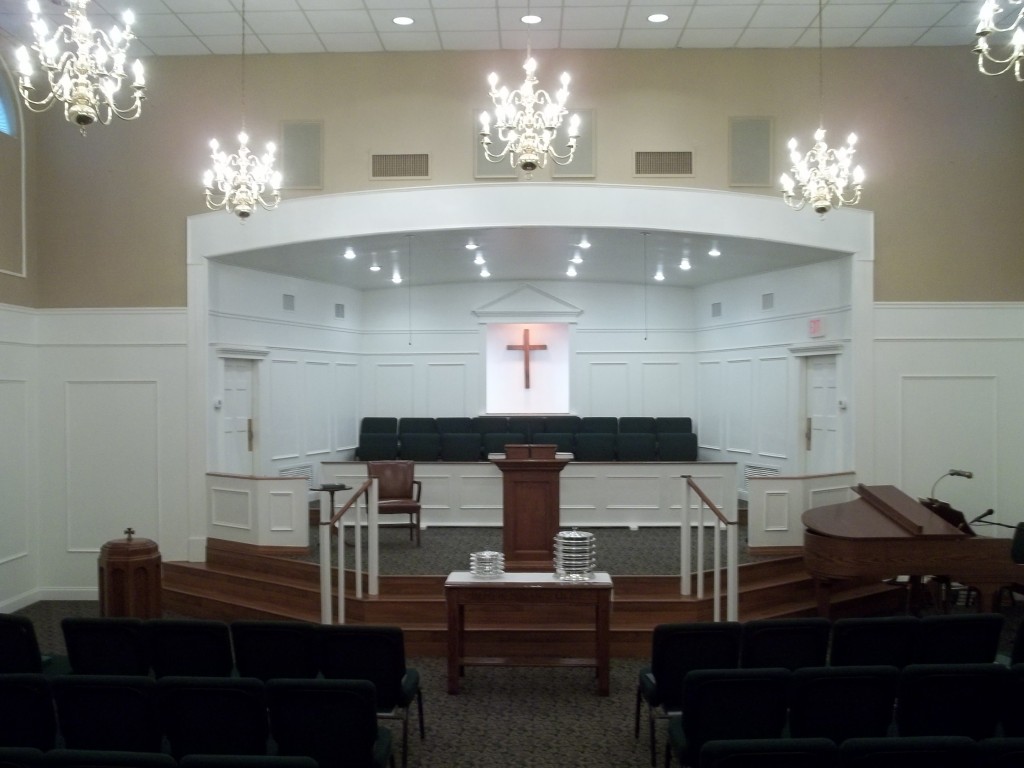 Our text is Acts 28:17-31.
Acts closes without telling us what happened to the Apostle Paul. We are not sure how long he lived. We do not know how long he was able to go on ministering unhindered. We cannot even be certain he ever made it to Spain. Acts essentially ends with a big "to be continued." Why? Because Luke did not intend to write a biography of Paul. As he was being carried along by Holy Spirit, Luke purposely described the acts of the Lord Jesus Christ accomplished by the Spirit. He set out to describe the unstoppable progress of the gospel. The book of Acts then, is about all that Jesus continued to do after that point. The ministry of Jesus continues today through his church.
---
Children's Message: Pastor Chad Sadorf has been including a series of Children's Messages. This series of Children's Messages will look at numbers and counting to help teach Bible stories and doctrine about God, his world, and Jesus. Today's message is provided as a video; this link appears just after the Gloria Patri in the service (where it would normally occur in our church service). Click on this link for a children's bulletin to accompany today's message: Children's Bulletin.
---
Service for Family Worship:
Call to Worship:
Psalm 63:3-5
3 Because your steadfast love is better than life, my lips will praise you. 4 So I will bless you as long as I live; in your name I will lift up my hands. 5 My soul will be satisfied as with fat and rich food, and my mouth will praise you with joyful lips,
(ESV)
Prayer:
Almighty God, holy, holy, holy, is your name.
You are exalted above the heavens, and your glory is displayed in all of your creation.
You sustain, control, and rule over all that exists.
And yet you dwell with your children in the most intimate way because of Jesus.
So we come to you with boldness and with great joy; not because we have earned your favor, but because we are trusting that the blood of your Son has washed us clean.
Father, we pray that anyone within the sound of my voice who is dead in sin would be made alive by the power of Holy Spirit. And for those who are already saved by your omnipotent grace, may they be built up in the true faith.
And may Holy Spirit transform all who hear, so that we are not just hearers of the word, but doers as well.
Gracious God,  renew our minds by the washing of your word.
Father, Son, and Holy Spirit, would you lift up our hearts this morning in love and adoration to you.
Make us to be still and know that you are God.
In the matchless name of Jesus we pray. Amen.
Worship in Psalm: Psalm 22:9-18 (Click here for the text of the hymn), (Click here for the piano accompaniment), (Click for the organ accompaniment)
Over the coming weeks, our congregation will be singing various portions of Psalm 22. The verses to be sung will be noted in the bulletin, but all will be set to the same tune as "Our God, Our Help in Ages Past". Of Psalm 22, Martin Luther wrote, "This is a kind of gem among the Psalms, and is peculiarly excellent and remarkable. It contains those deep, sublime, and heavy sufferings of Christ, when agonising in the midst of the terrors and pangs of divine wrath and death, which surpass all human thought and comprehension. I know not whether any Psalm throughout the whole book contains matter more weighty, or from which the hearts of the godly can so truly perceive those sighs and groans, inexpressible by man, which their Lord and Head, Jesus Christ, uttered when conflicting for us in the midst of death, and in the midst of the pains and terrors of hell. Wherefore this Psalm ought to be most highly prized by all who have any acquaintance with temptations of faith and spiritual conflicts." from The Treasury of David, www.spurgeon.org/treasury/treasury/ps022.htm
Matthew 5:43-48
43 "You have heard that it was said, 'You shall love your neighbor and hate your enemy.' 44 But I say to you, Love your enemies and pray for those who persecute you, 45 so that you may be sons of your Father who is in heaven. For he makes his sun rise on the evil and on the good, and sends rain on the just and on the unjust. 46 For if you love those who love you, what reward do you have? Do not even the tax collectors do the same? 47 And if you greet only your brothers, what more are you doing than others? Do not even the Gentiles do the same? 48 You therefore must be perfect, as your heavenly Father is perfect. (ESV)
Confession:
Almighty God, Creator, and Redeemer, holy beyond all comprehension, perfect in all your attributes and character, forgive our sins. Forgive the sins that we remember, and the sins we have forgotten. Forgive our many failures in the face of temptation, and those times when we have been stubborn in the face of correction. Forgive the times we have been proud of our own achievements and those when we have failed to boast in your works. Forgive the harsh judgments we have made of others, and the leniency we have shown ourselves. Forgive the lies we have told to others, and the truths we have avoided. Forgive us the pain we have caused others and the indulgence we have shown ourselves. Gracious Father, have mercy on us, restore the joy of our salvation, and transform us increasingly into the image of your Son. For it is in his name we pray. Amen.
Assurance of Pardon: Psalm 103:11-12
Brothers and sisters, hear the word of the Lord and rest in this truth:
11 For as high as the heavens are above the earth, so great is his steadfast love toward those who fear him; 12 as far as the east is from the west, so far does he remove our transgressions from us.
If you are in Christ, then be assured that God forgives you completely. Glory be to God!
Affirmation of Faith:
Westminster Confession of Faith, Chapter 1, The Holy Scripture
Section 1:
Although the light of nature and the works of creation and providence manifest the goodness, wisdom, and power of God, to such an extent that men are without excuse, yet they are not sufficient to give that knowledge of God and of his will which is necessary for salvation. Therefore it pleased the Lord, at various times and in diverse ways, to reveal himself and to declare his will to his church; and afterward—for the better preserving and propagating of the truth, and for the more sure establishment and comfort of the church against the corruption of the flesh and the malice of Satan and of the world—to commit this revelation wholly to writing. Therefore the Holy Scripture is most necessary, God's former ways of revealing his will to his people having ceased.
Section 4:
The authority of the Holy Scripture, because of which it ought to be believed and obeyed, does not depend upon the testimony of any man or church, but entirely upon God, its author (who is truth itself); therefore it is to be received, because it is the Word of God.
Response in Praise: Gloria Patri (Click here for the text of the hymn), (Click here for voices and accompaniment), (Click here for the piano accompaniment), (Click for the organ accompaniment)
Children's Message:
The Number 2, Counting and Bible Doctrine (Click here to link to the video of the Children's Message)
(You may want to take a moment to pray with your child or children for your family, your church family, our country and world.)
Offertory: Proverbs 11:24-25
24 One gives freely, yet grows all the richer; another withholds what he should give, and only suffers want. 25 Whoever brings blessing will be enriched, and one who waters will himself be watered. (ESV)
(Online giving is now available for your convenience. This link, https://www.faithpresarp.org/give/, will take you to the page that explains this process and includes a button which will redirect you to the secured giving platform.
Response in Praise: Doxology (Click here for the text of the hymn), (Click here for voices and accompaniment), (Click here for the piano accompaniment), (Click for the organ accompaniment)
Hymn #363, We Gather Together (Click here for the text of the hymn), (Click here for the piano accompaniment), (Click for the organ accompaniment)
In many hymnals, "We Gather Together" appears as a Thanksgiving hymn. Perhaps this is because of the opening line and the general idea that God is with us regardless of our circumstances. However, the hymn speaks more about God's providence throughout the trials, fights and battles of life using language like: "the fight we were winning", "our defender will be", "let thy congregation escape tribulation". The Lord is our warrior who has fought and won the war for us!
Pastoral Prayer: (Click here for the Pastoral Prayer)
Sermon: Paul Preaching from Prison
(Click here to listen to the sermon) (Click here to watch the sermon)
Acts 28:17-31
Hymn #503, Out of My Bondage, Sorrow, and Night (Click here for the text of the hymn), (Click here for the piano accompaniment), (Click here for the organ accompaniment)
The words of this 1887 hymn picture what sin and living in a fallen world has done to impact our lives, bringing: bondage, sickness, failure, loss, unrest, distress, pride, fear and despair. Yet each of these negatives is countered with what the Lord has done positively by His grace for all who come to Jesus in faith, giving: freedom, gladness, light, peace, jubilance, shelter, joy, gain, health and love.
Benediction (Click here to hear this week's benediction)
---
Questions for Further Discussion
1. Describe your reaction to Luke's ending of Acts.
2. Read Philippians 1:12-26 in light of Acts 28. What can we learn from Paul's perspective on his imprisonment in Rome?
3. What can we learn about disciple making from Acts 28:23-31?
4. Why do you think we are often tempted to doubt the power of the gospel? What does this passage teach about the ultimate triumph of the gospel?
5. What might it look like for you to speak about Jesus with boldness? Take a moment to pray for boldness to share the good news of Jesus this week and ask God to help your listeners respond in repentance and faith.
---
Children's Message:
The Number 2, Counting and Bible Doctrine
Click on this link for a children's bulletin to accompany today's sermon: Children's Bulletin.
---
Jesus was a real person, fully human like you and I are, but Jesus was also fully God! Jesus is one person with 2 NATURES!
The Bible shows us in many places that Jesus Christ is fully human: Jesus was born as a baby, he got hungry, he felt lonely, when he was sad – he cried, when he was tired – he slept. He visited friends…went to a wedding…he read and learned and grew up. He was tempted like we are, but he never sinned!
Luke 2:52 –– Jesus became wiser and stronger. He also became more and more pleasing to God and to people. (NIRV)
When Jesus went to the cross he was representing us as human beings, Jesus couldn't represent us if he wasn't one of us.
In Hebrews 4:15 it says – We have a high priest who can feel it when we are weak and hurting. We have a high priest who has been tempted in every way, just as we are. But he did not sin. (NIRV)
The Bible also shows us that Jesus is fully God!
In Colossians 1:16 it says –for through him (Jesus) God created everything in the heavenly realms and on earth. He made the things we can see and the things we can't see— (New Living Translation)
Jesus as Our Creator God – made storms stop and waves grow calm. He had power to heal people from diseases. He knew what people were thinking. He could forgive sins, do miracles, tell about future things before they happened and by his own power he came back to life after he died and was buried!
In John 10:30 Jesus says, "I and the Father are one." (NIRV)
Jesus is the ONLY person who ever lived who was one person with two natures, one human and one divine – these 2 natures were not blended together or mixed up.
Because Jesus was fully man and fully God, he could be our Savior and Redeemer!