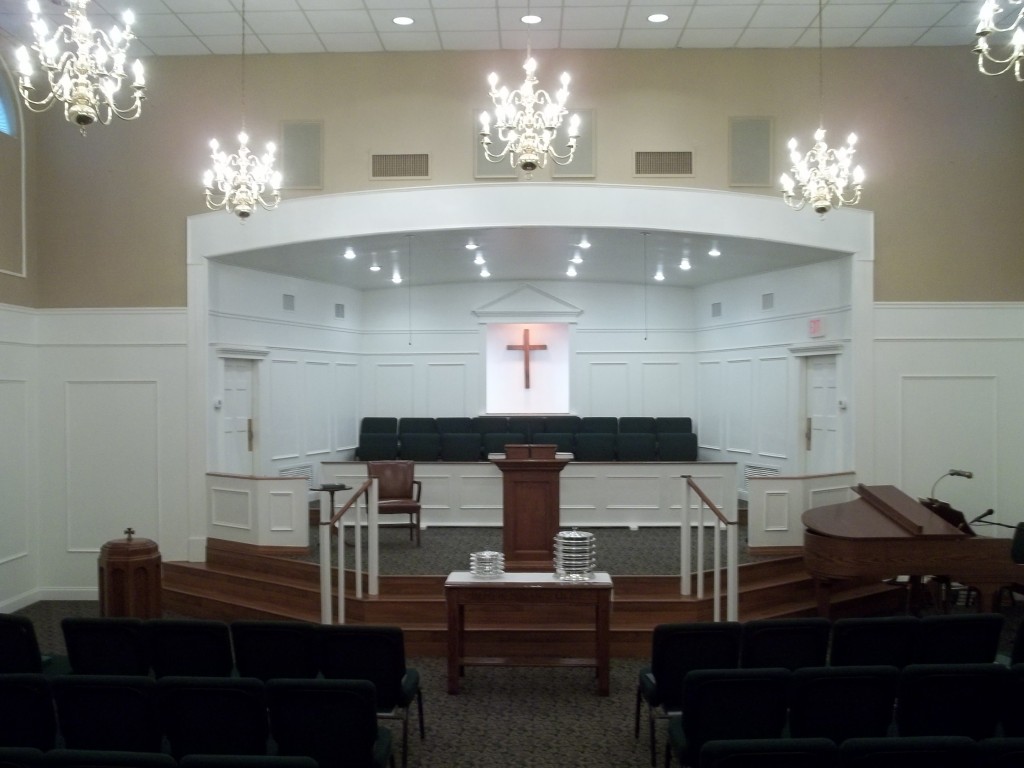 Our text is Philippians 1:12-18.
In this text, we see Paul's remarkable Christ-centered perspective. He isn't whining about his situation. He isn't complaining about not being able to labor in some ripe mission field, like Spain. He is not even complaining about his critics who are trying to afflict him in his imprisonment. He is stuck in prison, but he is able to rejoice. Paul cares about the gospel; he cares about Christ being proclaimed. He is rejoicing because the gospel is advancing and Christ is being preached.
He stays focused, and so should we.
---
Children's Message: Pastor Chad Sadorf has been including a series of Children's Messages. This series of Children's Messages will look at numbers and counting to help teach Bible stories and doctrine about God, his world, and Jesus. Today's message is provided as a video; this link appears just after the Gloria Patri in the service (where it would normally occur in our church service). Click on these links for a children's bulletin and activity pages to accompany today's message: Children's Bulletin, Activity Page 1, and Activity Page 2
---
Service for Family Worship:
Call to Worship:
Psalm 47:1-2, 6-9
1 Clap your hands, all peoples! Shout to God with loud songs of joy!
2 For the Lord, the Most High, is to be feared, a great king over all the earth.
6 Sing praises to God, sing praises! Sing praises to our King, sing praises!
7 For God is the King of all the earth; sing praises with a psalm!
8 God reigns over the nations; God sits on his holy throne.
9 The princes of the peoples gather as the people of the God of Abraham. For the shields of the earth belong to God; he is highly exalted! (ESV)
Prayer:
Almighty God, you are infinite, eternal, and unchangeable in your being, wisdom, power, holiness, justice, goodness, and truth. You are the standard of perfection, and we exist by your good pleasure and will.
For your own glory, you have foreordained whatsoever comes to pass.
And we, your children, have come today to publicly acknowledge and proclaim your infinite worth. We thank you so much for the privilege of gathering in your name, and for the many blessings that are so evident in our lives.
Everywhere we turn and even when we don't look for it, we see your hand sustaining, guiding, loving, and satisfying. And even when bad things happen, while the pain is no less real, you are always with us. You are at work in every circumstance we face.
So Father, we praise you this morning, not only because of what you have done, but because you are worthy.
Enable us by Holy Spirit to worship you this day in spirit and in truth. In Jesus' name we pray. Amen.
Worship in Psalm: Psalm 24 (Click here for the text of the hymn), (Click here for the piano accompaniment), (Click for the organ accompaniment)
Each Sunday in February, our congregation will be singing Psalm 24 which is set to the same tune as "Immortal, Invisible, God Only Wise." Of Psalm 24, Charles Spurgeon wrote, "This sacred hymn was probably written to be sung when the ark of the covenant was taken up from the house of Obed-edom, to remain within curtains upon the hill of Zion. The words are not unsuitable for the sacred dance of joy in which David led the way upon that joyful occasion. The eye of the Psalmist looked, however, beyond the typical upgoing of the ark to the sublime ascension of the King of glory. We will call it The Song of the Ascension…It consists of three parts. The first glorifies the true God, and sings of his universal dominion; the second describes the true Israel, who are able to commune with him; and the third pictures the ascent of the true Redeemer who has opened heaven's gates for the entrance of his elect." from The Treasury of David, www.spurgeon.org/treasury/treasury/ps024.htm
Corporate Scripture Reading: Luke 18:9-14
9 He also told this parable to some who trusted in themselves that they were righteous, and treated others with contempt: 10 "Two men went up into the temple to pray, one a Pharisee and the other a tax collector. 11 The Pharisee, standing by himself, prayed thus: 'God, I thank you that I am not like other men, extortioners, unjust, adulterers, or even like this tax collector. 12 I fast twice a week; I give tithes of all that I get.' 13 But the tax collector, standing far off, would not even lift up his eyes to heaven, but beat his breast, saying, 'God, be merciful to me, a sinner!' 14 I tell you, this man went down to his house justified, rather than the other. For everyone who exalts himself will be humbled, but the one who humbles himself will be exalted." (ESV)
Confession:
Father in heaven, we need to be forgiven.
We have often tried to deal with our sins on our terms instead of yours. Instead of trusting in the finished work of Jesus Christ,
we have tried to work off our guilt. We have tried so hard to pile up good deeds that outweigh our sins in order to earn your favor.
When this doesn't work, we quickly turn to denial and distraction.
Instead of trusting in the resurrection of Jesus Christ,
we have tried to change through our own efforts.
We have tried to change our hearts through sheer willpower.
This has left some of us arrogant.
This has left most of us anxious and depressed.
Forgive us for trying to heal ourselves.
Forgive us for neglecting your grace.
Forgive, heal, and transform us for Jesus' sake. Amen.
Assurance of Pardon: Romans 8:1-2
1 There is therefore now no condemnation for those who are in Christ Jesus. 2 For the law of the Spirit of life has set you free in Christ Jesus from the law of sin and death. (ESV)
Affirmation of Faith:
The Heidelberg Catechism
Question 63:
How can you say that the good we do doesn't earn anything when God promises to reward it in this life and the next?
Answer:
This reward is not earned; it is a gift of grace.
Question 64:
But doesn't this teaching make people indifferent and wicked?
Answer:
No. It is impossible for those grafted into Christ by true faith not to produce fruits of gratitude.
Response in Praise: Gloria Patri (Click here for the text of the hymn), (Click here for voices and accompaniment), (Click here for the piano accompaniment), (Click for the organ accompaniment)
Children's Message:
The Number 5, Counting and Bible Doctrine (Click here to link to the video of the Children's Message)
(You may want to take a moment to pray with your child or children for your family, your church family, our country and world.)
Offertory:
For our offertory call this morning, our Lord and Savior Jesus Christ said, "I came to seek and save that which was lost." (Luke 19:10, ESV)
As part of our worship we have the privilege of giving back a portion of what he has entrusted to us.
May he use his tithes and our offerings to seek and save.
(Online giving is now available for your convenience. This link, https://www.faithpresarp.org/give/, will take you to the page that explains this process and includes a button which will redirect you to the secured giving platform.
Response in Praise: Doxology (Click here for the text of the hymn), (Click here for voices and accompaniment), (Click here for the piano accompaniment), (Click for the organ accompaniment)
Mary Lathbury was a person of many talents, a professional artist, poet, and author. The daughter of a Methodist minister and sister to two Methodist ministers. Though often sung as a communion hymn, "Break Thou the Bread of Life" is really a "study hymn" that focuses on the relationship between the Christ found in the "sacred page" and the individual reader of the Bible. The hymn reminds us that the Christ of the Scripture brings "truth," breaks the power of "bondage," and provides "peace" to each person who shares the "bread of life."
Pastoral Prayer: (Click here for the Pastoral Prayer)
Sermon: Stay Focused
(Click here to listen to the sermon) (Click here to watch the sermon)
Philippians 1:12-18
I. Gospel providence
II. Gospel witness
III. Gospel boldness
IV. Gospel joy
Hymn #257, Stricken, Smitten, and Afflicted (Click here for the text of the hymn), (Click here for the piano accompaniment), (Click here for the organ accompaniment)
Thomas Kelly wrote more than 750 hymns, including this one in 1804. Kelly planned to be a lawyer, but after his conversion he decided to enter the ministry. He was ordained as an Anglican priest in 1792. The opening line draws from Isaiah 53:4 and describes of the Messianic Suffering Servant: "We considered him stricken by God, smitten by him, and afflicted." In verse two, we are called to consider the depth of Christ's passion, his groaning, his betrayal, his insults, and his unmatched grief. Verse three displays the true nature of sin and human guilt. Verse four elegantly summarizes the hope of the gospel.
Benediction (Click here to hear this week's benediction)
---
Questions for Further Discussion
What factors may cause people to lose their joy in ministry?
What might we learn from this passage about how to deal with critics?
Does Philippians 1:12 encourage you? How so?
Why should Philippians 1:12 give us added incentive to speak the gospel to someone?
In what ways can you "put the gospel first" in your relationships?
Why is it easier for us to be courageous in physical ways than in speaking the gospel to someone who is spiritually lost?
---
Children's Message:
The Number 5 Counting and Bible Doctrine
Click on these links for a children's bulletin and activity pages to accompany today's message: Children's Bulletin, Activity Page 1, and Activity Page 2.
---
Can God use 5 stones and 5 loaves of bread?
We have been learning numbers and counting together to learn Bible stories and what the Bible teaches about God and today's number is five.
In 1 Samuel 17:40 it says that: He [David] took his stick in his hand. And he chose five smooth stones from a stream. He put them in his pouch and held his sling in his hand. Then he went to meet Goliath. Beginning in verse 48, it says: As Goliath came near to attack him, David ran quickly to meet him. 49 He took a stone from his pouch. He put it into his sling and slung it. The stone hit the Philistine on his forehead and sank into it. Goliath fell facedown on the ground. (ICB)
God chose a young shepherd boy named David and one of his five stones. God used little David and his skill with a sling to bring down a great giant.
God often chooses little things to work out his plans.
In John 6 we read about the number 5 and small things – it says starting in John 6:5: Jesus looked up and saw a large crowd coming toward him. He said to Philip, "Where can we buy bread for all these people to eat?" 6 (Jesus asked Philip this question to test him. Jesus already knew what he planned to do.) 7 Philip answered, "Someone would have to work almost a year to buy enough bread for each person here to have only a little piece." 8 Another follower there was Andrew. He was Simon Peter's brother. Andrew said, 9 "Here is a boy with five loaves of barley bread and two little fish. But that is not enough for so many people." 10 Jesus said, "Tell the people to sit down." This was a very grassy place. There were about 5,000 men who sat down there. 11 Then Jesus took the loaves of bread. He thanked God for the bread and gave it to the people who were sitting there. He did the same with the fish. He gave them as much as they wanted. (ICB)
God uses small things to show up his own greatness and power and to stop us from being proud and thinking more of ourselves!
5 is not a very big number, but God can do great things with 5 of anything!
If you love Jesus – even if you are small – God can make you part of his great plan and use your life to bring him glory.