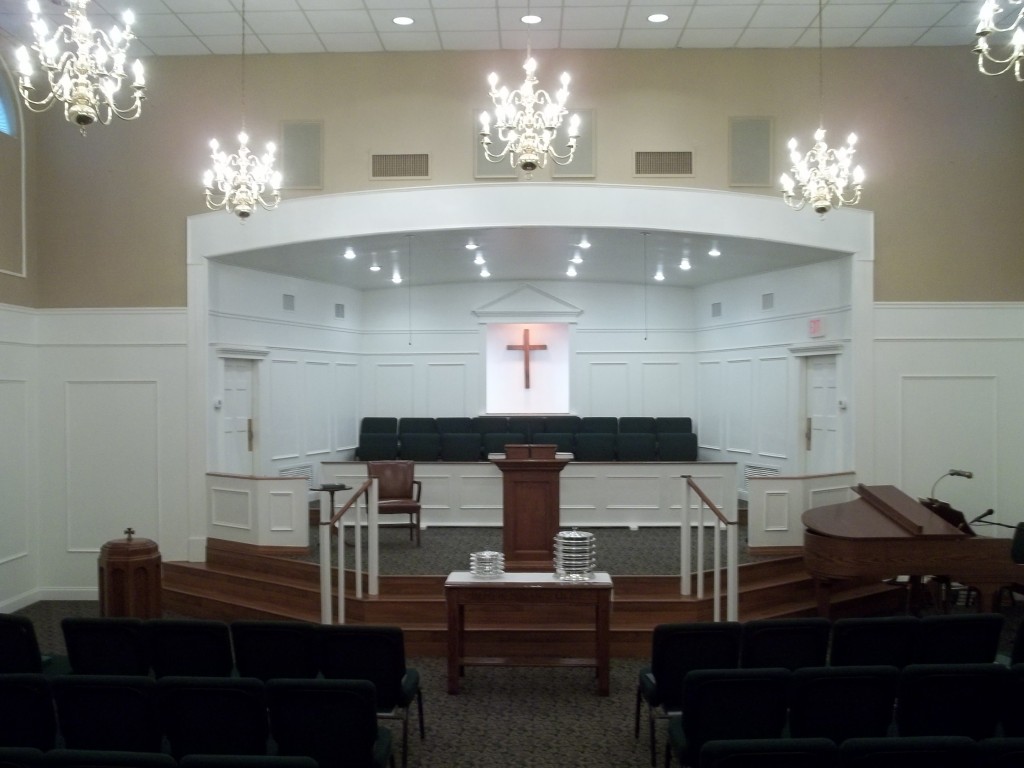 Our text is Philippians 2:5-11.
Philippians 2:5-11 is one of the most amazing passages in the Bible. It appears to be an early hymn or poetic creed, perhaps used liturgically in ancient worship. This text is both doctrinal and ethical in nature. It emphasizes the stunning humility of Jesus, who became a servant and died on behalf of his people to the glory of God. As a result of his life, death, and resurrection, he is now exalted as the true King of creation.
---
Children's Message: Pastor Chad Sadorf has been including a series of Children's Messages. This series of Children's Messages will look at numbers and counting to help teach Bible stories and doctrine about God, his world, and Jesus. Today's message is provided as a video; this link appears just after the Gloria Patri in the service (where it would normally occur in our church service). Click on these links for a children's bulletin and coloring page to accompany today's message: Children's Bulletin and Coloring Page.
---
Service for Family Worship:
Call to Worship:
Psalm 9: 1-2, 10-11
1 I will praise you, O Lord, with all my heart; I will tell of all your wonders.
2 I will be glad and rejoice in you; I will sing praise to your name, O Most High.
10 Those who know your name will trust in you, for you, Lord, have never forsaken those who seek you. 11 Sing praises to the Lord, enthroned in Zion; proclaim among the nations what he has done. (NIV)
Prayer:
Almighty God, this morning we bow in your presence as your people and proclaim, "Worthy are you, O Lord, to receive glory and honor and power, for you created all things, and by your will they existed and were created." [Revelation 4:11]
You created all things seen and unseen and you sustain, exercise your providence, and rule over all things.
You are holy beyond our comprehension.
You are the standard of perfection.
You are all powerful, all knowing.
You are utterly independent, and we your people, are utterly dependent upon you.
And as we come this morning to present our worship, as a sacrifice of praise, compared to the sacrifice of your Son on the cross our gifts seem anything but sacrifices.
But Father, may each of these gifts truly symbolize the intention of the giver, to honor and serve you in thought, word, and deed; not only in this hour, but throughout the coming days of this week and year, wherever you might send us.And Father will you guide us today by the power of Holy Spirit and oversee every aspect of this service to bring glory and honor to the one true God, Father, Son, and Holy Spirit. Amen.
Worship in Psalm: Psalm 24 (Click here for the text of the hymn), (Click here for the piano accompaniment), (Click for the organ accompaniment)
Each Sunday in February, our congregation will be singing Psalm 24 which is set to the same tune as "Immortal, Invisible, God Only Wise." Of Psalm 24, Charles Spurgeon wrote, "This sacred hymn was probably written to be sung when the ark of the covenant was taken up from the house of Obed-edom, to remain within curtains upon the hill of Zion. The words are not unsuitable for the sacred dance of joy in which David led the way upon that joyful occasion. The eye of the Psalmist looked, however, beyond the typical upgoing of the ark to the sublime ascension of the King of glory. We will call it The Song of the Ascension…It consists of three parts. The first glorifies the true God, and sings of his universal dominion; the second describes the true Israel, who are able to commune with him; and the third pictures the ascent of the true Redeemer who has opened heaven's gates for the entrance of his elect." from The Treasury of David, www.spurgeon.org/treasury/treasury/ps024.htm
Corporate Scripture Reading: James 2:10-13
10 For whoever keeps the whole law but fails in one point has become accountable for all of it. 11 For he who said, "Do not commit adultery," also said, "Do not murder." If you do not commit adultery but do murder, you have become a transgressor of the law. 12 So speak and so act as those who are to be judged under the law of liberty. 13 For judgment is without mercy to one who has shown no mercy. Mercy triumphs over judgment. (ESV)
Confession:
Father, we have so often trivialized the gospel by failing to see the depth of our own sin. We confess that even the good works which we bring to you, are defective in both motive and performance. We have also broken your law, in thought, in word, and in deed, in order to please ourselves and other people. We are so quick to impugn the motives of others and judge them uncharitably, while resisting the loving conviction of Holy Spirit in our own hearts of our own sin.So Father, help us today to know the joy of true repentance, as we look to Christ in faith, and rest in his perfect righteousness. Forgive us for the totality of our sin as you define it. Transform us, and sanctify us by your Word, and through your Spirit, for your glory and for our good. Amen.
Assurance of Pardon:
2 Corinthians 5:21
21 For our sake he made him to be sin who knew no sin, so that in him we might become the righteousness of God. (ESV)
Jesus was the perfect, all-sufficient atonement for our sins. We are forgiven through the instrument of faith in him, and his righteousness is credited to our account. We are utterly justified before a Holy God. Amen.
Affirmation of Faith:
The Westminster Larger Catechism
Question 48:
How did Christ humble himself in his life?
Answer:
Christ humbled himself in his life, by subjecting himself to the law, which he perfectly fulfilled; and by conflicting with the indignities of the world, temptations of Satan, and infirmities in his flesh, whether common to the nature of man, or particularly accompanying that his low condition.
Question 49
How did Christ humble himself in his death?
Answer:
Christ humbled himself in his death, in that having been betrayed by Judas, forsaken by his disciples, scorned and rejected by the world, condemned by Pilate, and tormented by his persecutors; having also conflicted with the terrors of death, and the powers of darkness, felt and borne the weight of God's wrath, he laid down his life an offering for sin, enduring the painful, shameful, and cursed death of the cross.
Question 50:
Wherein consisted Christ's humiliation after his death?
Answer:
Christ's humiliation after his death consisted in his being buried, and continuing in the state of the dead, and under the power of death till the third day; which hath been otherwise expressed in these words, He descended into hell.
Response in Praise: Gloria Patri (Click here for the text of the hymn), (Click here for voices and accompaniment), (Click here for the piano accompaniment), (Click for the organ accompaniment)
Children's Message:
The Number 8, Counting and Bible Doctrine (Click here to link to the video of the Children's Message)
(You may want to take a moment to pray with your child or children for your family, your church family, our country and world.)
Offertory:
Ephesians 2:10
10 For we are his workmanship, created in Christ Jesus for good works, which God prepared beforehand, that we should walk in them. (ESV)

God has given us the blessing and responsibility of stewardship.
Let us serve him with our very lives.
(Online giving is now available for your convenience. This link, https://www.faithpresarp.org/give/, will take you to the page that explains this process and includes a button which will redirect you to the secured giving platform.
Response in Praise: Doxology (Click here for the text of the hymn), (Click here for voices and accompaniment), (Click here for the piano accompaniment), (Click for the organ accompaniment)
Our hymn is an adaption of a poem by Richard Baxter, first published in 1681. Baxter became a pastor in the Church of England in 1640. During the English Civil War, he acted as Chaplain to one of Oliver Cromwell's regiments. When the throne was restored, he was offered a bishopric, but he declined. He pastored, preached, and wrote independently of his Anglican ordination, that made him a Non-conformist along with Presbyterians, Congregationalists and Baptists. One of his many important works, "The Reformed Pastor" is required reading at Reformed Theological Seminary. Our hymn pictures the totality of creation in praise of Our Great God – holy angels, departed saints, nations of the earth, and you and I.
Pastoral Prayer: (Click here for the Pastoral Prayer)
Sermon: The Mind of Christ
(Click here to listen to the sermon) (Click here to watch the sermon)
Philippians 2:5-11
Hymn #644, May the Mind of Christ My Savior (Click here for the text of the hymn), (Click here for the piano accompaniment), (Click here for the organ accompaniment)
Written by Kate B. Wilkinson in 1925, this hymn petitions God to give us the controlling mind of Christ – a call right out of Philippians 2:5. In verse 2, the plea is to have the Word of Christ dwell in our hearts, taken from Colossians 3:16. Verse 4 exhorts us, referencing Philippians 2:5-8, to see Jesus humbling himself by taking on the likeness of men and becoming obedient even to death on the cross. Finally, in verse 5 the unusual line: "May his beauty rest on me" – asks that others might be won to saving faith by seeing my life adorned, only, with the beauty of my Savior!
Benediction (Click here to hear this week's benediction)
---
Questions for Further Discussion
How is Christ's humility displayed in this passage?
What would happen in our relationships if we lived out Philippians 2:5-11? How can you go from being a "grasper" to a "giver"?
Read Isaiah 53 and marvel at the humility of Christ and at his atoning work.
Why should we be overwhelmed by the fact that we (Christians) know Christ and that he knows us?
How is the exaltation of Christ displayed in this passage? Why is the exaltation of Christ important for us today?
---
Children's Message:
The Number 8, Counting and Bible Doctrine
Click on these links for a children's bulletin and coloring page to accompany today's message: Children's Bulletin and Coloring Page.
---
We have been learning numbers and counting together to learn Bible stories, lessons and teachings about God, his world and Jesus and today's number is – 8.
How many people did God save on Noah's Ark?
God saved eight people on the ark in order to have a new beginning for mankind after the flood. We read that in Genesis 7:13 – On that same day Noah and his wife, his sons Shem, Ham and Japheth and their wives went into the boat. (ICB)
1 Peter 3:20 – to those who were disobedient long ago when God waited patiently in the days of Noah while the ark was being built. In it only a few people, eight in all, were saved through water, (ICB)
AND
2 Peter 2:5 – And God punished the evil people who lived long ago. He brought a flood to the world that was full of people who were against him. But God saved Noah and seven other people with him. Noah was a man who preached about being right with God. (ICB)
So God started over with mankind with Noah's family of 8.
When God shut the door of Noah's Ark, the time of judgment arrived. Only those who had gone through the doorway into the ark would be saved; no one else could enter. Noah and his family had to obey God's command to enter the ark for salvation.
The ark pictures salvation in Jesus Christ, our "ark" of salvation is Jesus who said "I am the door. If anyone enters by Me, he will be saved" (John 10:9 ESV).
God saved 8 people in Noah's Ark from the flood of judgment – God will save you and me if we enter the ark of salvation by putting our love and faith in Jesus.