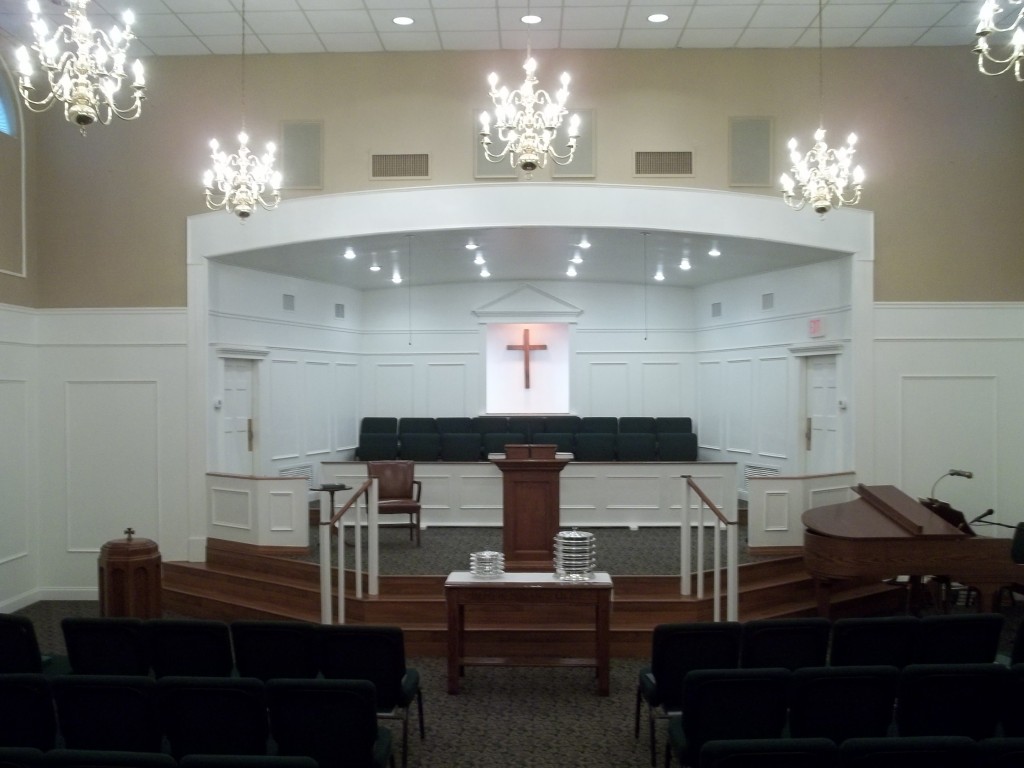 Our text is Philippians 2:1-5.
Unity is still on Paul's mind, though the focus shifts to internal unity. The church must not only take a stand against outside pressure, but they should also pursue particular attitudes and actions within the body of Christ in order to overcome division. Today we come to a classic passage on unity in three simple parts: the basis for unity, the command for unity, and the expressions of unity.
---
Children's Message: Pastor Chad Sadorf has been including a series of Children's Messages. This series of Children's Messages will look at numbers and counting to help teach Bible stories and doctrine about God, his world, and Jesus. Today's message is provided as a video; this link appears just after the Gloria Patri in the service (where it would normally occur in our church service). Click on these links for a children's bulletin and activity pages to accompany today's message: Children's Bulletin, Decoder Puzzle Page, and Coloring Page.
---
Service for Family Worship:
Call to Worship:
Titus 3:4-7
4 But when the goodness and loving kindness of God our Savior appeared, 5 he saved us, not because of works done by us in righteousness, but according to his own mercy, by the washing of regeneration and renewal of the Holy Spirit, 6 whom he poured out on us richly through Jesus Christ our Savior, 7 so that being justified by his grace we might become heirs according to the hope of eternal life. (ESV)
Prayer:
Almighty God, we've come this morning to praise you because you are infinitely worthy of our worship and our praise.From before the foundation of the world you chose a people for yourself and you have worked throughout the history of redemption applying that salvation through the "the washing of regeneration and renewal of the Holy Spirit," You have overwhelmed us by your grace—and these truths are too wonderful for us to totally grasp. So we are here this morning at your calling, and according to your command, to recognize and proclaim your infinite worth. We are here to give ourselves to you in worship. So, by the power of Holy Spirit will you enable us to come to you through Jesus Christ, blocking out the cares of the world so that we may worship you in spirit and in truth. Enable us to honor and glorify you this day as the one true God, Father, Son, and Holy Spirit, same in substance, equal in power and in glory. And will you prepare our hearts even now to confess our sins. Amen.
Worship in Psalm: Psalm 24 (Click here for the text of the hymn), (Click here for the piano accompaniment), (Click for the organ accompaniment)
Each Sunday in February, our congregation will be singing Psalm 24 which is set to the same tune as "Immortal, Invisible, God Only Wise." Of Psalm 24, Charles Spurgeon wrote, "This sacred hymn was probably written to be sung when the ark of the covenant was taken up from the house of Obed-edom, to remain within curtains upon the hill of Zion. The words are not unsuitable for the sacred dance of joy in which David led the way upon that joyful occasion. The eye of the Psalmist looked, however, beyond the typical upgoing of the ark to the sublime ascension of the King of glory. We will call it The Song of the Ascension…It consists of three parts. The first glorifies the true God, and sings of his universal dominion; the second describes the true Israel, who are able to commune with him; and the third pictures the ascent of the true Redeemer who has opened heaven's gates for the entrance of his elect." from The Treasury of David, www.spurgeon.org/treasury/treasury/ps024.htm
Corporate Scripture Reading: Luke 7:36-50
36 One of the Pharisees asked him to eat with him, and he went into the Pharisee's house and reclined at the table. 37 And behold, a woman of the city, who was a sinner, when she learned that he was reclining at table in the Pharisee's house, brought an alabaster flask of ointment, 38 and standing behind him at his feet, weeping, she began to wet his feet with her tears and wiped them with the hair of her head and kissed his feet and anointed them with the ointment. 39 Now when the Pharisee who had invited him saw this, he said to himself, "If this man were a prophet, he would have known who and what sort of woman this is who is touching him, for she is a sinner." 40 And Jesus answering said to him, "Simon, I have something to say to you." And he answered, "Say it, Teacher." 41 "A certain moneylender had two debtors. One owed five hundred denarii, and the other fifty. 42 When they could not pay, he cancelled the debt of both. Now which of them will love him more?" 43 Simon answered, "The one, I suppose, for whom he cancelled the larger debt." And he said to him, "You have judged rightly." 44 Then turning toward the woman he said to Simon, "Do you see this woman? I entered your house; you gave me no water for my feet, but she has wet my feet with her tears and wiped them with her hair. 45 You gave me no kiss, but from the time I came in she has not ceased to kiss my feet. 46 You did not anoint my head with oil, but she has anointed my feet with ointment. 47 Therefore I tell you, her sins, which are many, are forgiven– for she loved much. But he who is forgiven little, loves little." 48 And he said to her, "Your sins are forgiven." 49 Then those who were at table with him began to say among themselves, "Who is this, who even forgives sins?" 50 And he said to the woman, "Your faith has saved you; go in peace." (ESV)
Confession:
Loving God, your word is living and active, sharper than any two-edged sword, piercing to the division of soul and of spirit, of joints and of marrow, and discerning the thoughts and intentions of the heart. Even as you have confronted us this morning through this narrative of the sinful woman forgiven, help us to see ourselves in her brokenness. Reveal to us the manifold ways in which we are guilty of comparing ourselves to others we perceive are more sinful than we. And trusting in ourselves and our own perceived righteousness, we often judge others uncharitably in our hearts, while we are quick to give ourselves a free pass. When we do, we trivialize your glorious gospel thinking that we can somehow gain merit with you by striving under the law.
The truth is, our own righteousness is filthy rags when measured against your perfect standard in the law, and the perfection of your son Jesus Christ. So Father, forgive us we pray for the totality of our sin. Manifest true humility in our hearts and lives through the power of your word and Holy Spirit. Help us to stand before you clothed only in the righteousness of your son, as we rest in him in faith. And may ongoing repentance and faith bring us the true joy and peace you have ordained, for your glory and for our good. In the matchless name of Jesus we pray. Amen.
Assurance of Pardon:
Hear the good news!
Isaiah 53:4-6
Surely he [Jesus] has borne our griefs and carried our sorrows; yet we esteemed him stricken, smitten by God, and afflicted. 5 But he was pierced for our transgressions; he was crushed for our iniquities; upon him was the chastisement that brought us peace, and with his wounds we are healed. 6 All we like sheep have gone astray; we have turned–every one–to his own way; and the Lord has laid on him the iniquity of us all. (ESV)
Through faith in Christ we are forgiven. Glory to God!
Affirmation of Faith:
The Westminster Larger Catechism
Question 46:
What was the estate of Christ's humiliation?
Answer:
The estate of Christ's humiliation was that low condition, wherein he for our sakes, emptying himself of his glory, took upon him the form of a servant, in his conception and birth, life, death, and after his death, until his resurrection.
Question 47:
How did Christ humble himself in his conception and birth?
Answer:
Christ humbled himself in his conception and birth, in that being from all eternity the Son of God, in the bosom of the Father, he was pleased in the fullness of time to become the son of man, made of a woman of low estate, and to be born of her; with divers circumstances of more than ordinary abasement.
Response in Praise: Gloria Patri (Click here for the text of the hymn), (Click here for voices and accompaniment), (Click here for the piano accompaniment), (Click for the organ accompaniment)
Children's Message:
The Number 7, Counting and Bible Doctrine (Click here to link to the video of the Children's Message)
(You may want to take a moment to pray with your child or children for your family, your church family, our country and world.)
Offertory:
Colossians 3:23-24
23 Whatever you do, work heartily, as for the Lord and not for men, 24 knowing that from the Lord you will receive the inheritance as your reward. You are serving the Lord Christ. (ESV)
(Online giving is now available for your convenience. This link, https://www.faithpresarp.org/give/, will take you to the page that explains this process and includes a button which will redirect you to the secured giving platform.
Response in Praise: Doxology (Click here for the text of the hymn), (Click here for voices and accompaniment), (Click here for the piano accompaniment), (Click for the organ accompaniment)
The words of our hymn were penned in 1876 by Jean S. Pigott. Little is known about Pigott, except that she was born in Ireland and was one of eight children. One of the interesting things about this hymn is the impact that it had on the life of the famous missionary to China, Hudson Taylor. It is said that it was his favorite hymn. He had learned that for him only one life was possible, that blessed life of resting and rejoicing in the Lord under all circumstances. As you consider the words of Pigott's hymn, notice three qualities which are shared – trusting fully in the Lord, experiencing peace and tranquility in Him, enjoying contentment and satisfaction with Him. The final words of verse four are a great daily prayer for each of us. "Keep me ever trusting, resting, fill me with Thy grace."
Pastoral Prayer: (Click here for the Pastoral Prayer)
Sermon: Same Mind, Same Love
(Click here to listen to the sermon) (Click here to watch the sermon)
Philippians 2:1-5
I. It starts in our mind
II. It is defined in our heart
III. It is enhanced by our actions
IV. It is modeled and empowered by Jesus
Hymn #141, God in the Gospel of His Son (Click here for the text of the hymn), (Click here for the piano accompaniment), (Click here for the organ accompaniment)
Benjamin Beddome was a prolific hymnwriter who was born in 1717 to a Baptist Minister father. Called into ministry, for 45 years he devoted his entire ministry to one church, even declining invitations to move to London. It was his practice to prepare a hymn every week to be sung after his Sunday morning sermon. Our hymn calls us to love, treasure, study, mediate upon and live out the Gospel Truth of God's Word!
Benediction (Click here to hear this week's benediction)
---
Questions for Further Discussion
What kind of motivations does Paul give for the church to serve one another with compassion? (Philippians 2:1-4)
How does the command for unity in 2:2 strike you?
Do you find it challenging to avoid rivalry and to put the needs of others ahead of your own? How would our church be different if everyone faithfully lived out Philippians 2:3-4?
How does Jesus show us the Philippians 2:3-4 kind of life?
How does this passage show us our need for Jesus?
---
Children's Message:
The Number 7 Counting and Bible Doctrine
Click on these links for a children's bulletin and activity pages to accompany today's message: Children's Bulletin, Decoder Puzzle Page, and Coloring Page.
---
The number seven appears over 700 times in the Bible? But why?
We have been learning numbers and counting together to help us learn Bible stories and Bible teaching about God, his world and Jesus – and today's number is seven.
Seven appears more than 700 times throughout the Bible. God must think something special about the #7 – and he does!
God often uses the #7 to teach us about something being "finished", "complete" or "perfect".
• Like when in Genesis God creates the world and everything in it in 6 days, but then God rests on the 7th day because His work is complete, finished!
• God commands the Israelites in Exodus 20:8-11 to make the seventh day of the week, a holy day, a day of worship to be filled with no working activities – this is why we have church.
Seven is associated with many promises in the very last Book of the Bible = Revelation. (54 times in the book of Revelation)
We read of seven letters addressed to seven churches (Revelation 2-3),
seven spirits before God's throne (Revelation 1:4),
seven golden lampstands (Revelation 1:12),
seven stars in Christ's right hand (Revelation 1:16),
seven seals of God's judgment (Revelation 5:1),
seven angels with seven trumpets (Revelation 8:2), etc.
seven bowls of God's wrath carried by seven angels,
seven thunders and the seven last plagues. (Revelation 6, 8, 11, 16).
Did you know our whole calendar year and every week is laid out based on the #7!
Of course, not every number 7 in the Bible carries a deeper meaning.
Sometimes, a 7 is just a 7.
But when God uses #7 in the Bible he is reminding us that he can and will PERFECTLY do what he commands and promises – even perfectly and completely saving me from my sins if I love and follow Jesus!