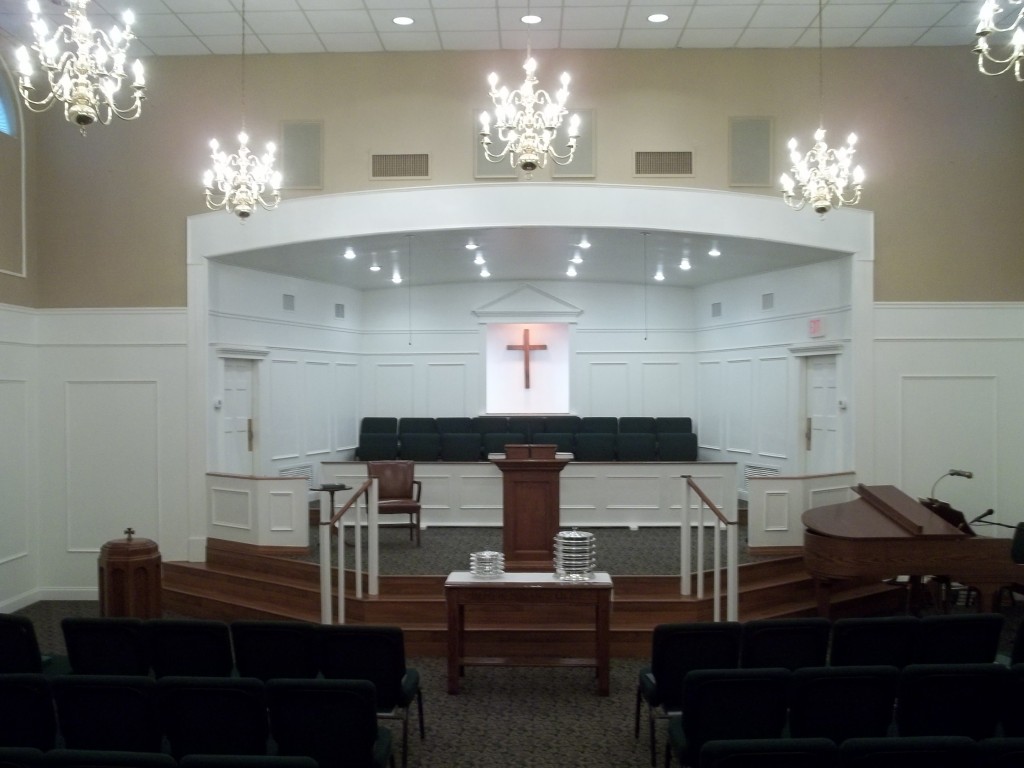 Our text is Philippians 1:18-30.
Paul concluded the previous section with "I rejoice," but now he turns his eyes to the future. "I will rejoice." After reporting his present situation, he tells the Philippians his plans for the future, and they include rejoicing in Christ. He is confident and joyful despite his situation because his sufferings cannot drown his joy. In life, suffering, or death, Paul will rejoice.
---
Children's Message: Pastor Chad Sadorf has been including a series of Children's Messages. This series of Children's Messages will look at numbers and counting to help teach Bible stories and doctrine about God, his world, and Jesus. Today's message is provided as a video; this link appears just after the Gloria Patri in the service (where it would normally occur in our church service). Click on these links for a children's bulletin and activity pages to accompany today's message: Children's Bulletin, DIY Creation mini-book.
---
Service for Family Worship:
Call to Worship:
Hebrews 1:1-3
1 Long ago, at many times and in many ways, God spoke to our fathers by the prophets, 2 but in these last days he has spoken to us by his Son, whom he appointed the heir of all things, through whom also he created the world. 3 He is the radiance of the glory of God and the exact imprint of his nature, and he upholds the universe by the word of his power. (ESV)
Hebrews 12:28b-29
28b Let us be thankful, and so worship God acceptably with reverence and awe, 29 for our "God is a consuming fire." (NIV)
Prayer:
Almighty God, you are infinite, eternal, and unchangeable in your being, wisdom, power, holiness, justice, goodness, and truth.You are the true and living God. And you have created us for your own glory. Part of your will for us is that we also take delight in you. Thank you so much for giving us hearts that want to take delight in you and to dwell in your presence. Because only there can we find true peace, joy, contentment, and rest for our weary souls. Father, Son, and Holy Spirit, we ask that you would enable us to worship you this day in spirit and in truth, to your honor and glory. Amen.
Worship in Psalm: Psalm 24 (Click here for the text of the hymn), (Click here for the piano accompaniment), (Click for the organ accompaniment)
Each Sunday in February, our congregation will be singing Psalm 24 which is set to the same tune as "Immortal, Invisible, God Only Wise." Of Psalm 24, Charles Spurgeon wrote, "This sacred hymn was probably written to be sung when the ark of the covenant was taken up from the house of Obed-edom, to remain within curtains upon the hill of Zion. The words are not unsuitable for the sacred dance of joy in which David led the way upon that joyful occasion. The eye of the Psalmist looked, however, beyond the typical upgoing of the ark to the sublime ascension of the King of glory. We will call it The Song of the Ascension…It consists of three parts. The first glorifies the true God, and sings of his universal dominion; the second describes the true Israel, who are able to commune with him; and the third pictures the ascent of the true Redeemer who has opened heaven's gates for the entrance of his elect." from The Treasury of David, www.spurgeon.org/treasury/treasury/ps024.htm
Corporate Scripture Reading: Luke 10:25-28
25 And behold, a lawyer stood up to put him to the test, saying, "Teacher, what shall I do to inherit eternal life?" 26 He said to him, "What is written in the Law? How do you read it?" 27 And he answered, "You shall love the Lord your God with all your heart and with all your soul and with all your strength and with all your mind, and your neighbor as yourself." 28 And he said to him, "You have answered correctly; do this, and you will live." (ESV)
Confession:
Heavenly Father, we are gathered before you, the maker of heaven and earth, whose chosen dwelling place is with the broken and contrite, to confess that we have sinned in thought, word, and deed. We have not loved you with our whole heart, soul, mind, and strength. We have not loved our neighbor as ourselves. In your mercy, deepen our sorrow for the wrong we have done and for the good we have left undone, so that we may hate our sin with a holy hatred. But, please Father, do not leave us in sorrow. With you, O Lord, there is forgiveness. In your mercy, restore the joy of our salvation; so that we may love you with a holy love. Amen.
Assurance of Pardon:
According to the Scriptures, Christ died for our sins. He made a full atonement for us. And believers are forgiven and have the promise of eternal life. Rest in that forgiveness.
We are his children. Amen.
Affirmation of Faith:
The Nicene Creed
We believe in one God, the Father Almighty, Maker of heaven and earth, of all things visible and invisible.
And in one Lord Jesus Christ, the only-begotten Son of God, begotten of his Father before all worlds, God of God, Light of Light, very God of very God, begotten, not made, being of one substance with the Father; by whom all things were made; who for us and for our salvation came down from heaven, and was incarnate by the Holy Spirit of the virgin Mary, and was made man; and was crucified also for us under Pontius Pilate; he suffered and was buried; and the third day he rose again according to the Scriptures, and ascended into heaven, and is seated at the right hand of the Father; and he shall come again, with glory, to judge both the living and the dead; whose kingdom shall have no end.
And we believe in the Holy Spirit, the Lord and giver of life, who proceeds from the Father and the Son; who with the Father and the Son together is worshiped and glorified; who spoke by the prophets; and we believe in one holy catholic† and apostolic church; we acknowledge one baptism for the remission of sins; and we look for the resurrection of the dead, and the life of the world to come. Amen.
†catholic is defined as God's universal church.
Response in Praise: Gloria Patri (Click here for the text of the hymn), (Click here for voices and accompaniment), (Click here for the piano accompaniment), (Click for the organ accompaniment)
Children's Message:
The Number 6, Counting and Bible Doctrine (Click here to link to the video of the Children's Message)
(You may want to take a moment to pray with your child or children for your family, your church family, our country and world.)
Offertory:
Psalm 116:12-14
12 What shall I render to the Lord for all his benefits to me? 13 I will lift up the cup of salvation and call on the name of the Lord, 14 I will pay my vows to the Lord in the presence of all his people. (ESV)
(Online giving is now available for your convenience. This link, https://www.faithpresarp.org/give/, will take you to the page that explains this process and includes a button which will redirect you to the secured giving platform.
Response in Praise: Doxology (Click here for the text of the hymn), (Click here for voices and accompaniment), (Click here for the piano accompaniment), (Click for the organ accompaniment)
The writer of our national anthem is the author of this hymn. In considering God's grace in the salvation of sinful man, one is likely first to focus on the cross-work of Christ in paying the penalty our sin deserves, and on the fact that we become beneficiaries of that payment when we look to Christ in simple faith, apart from any work or merit of our own. This seems to be what Francis Scott Key has in mind in the first stanza's phrase, "…the pard'ning grace that saves me," and the third stanza's, "Held a blood-sealed pardon to thee, Bade thee look to Him and live." However, the hymn also focuses, in the second and third stanzas, on God's gracious initiative in seeking us out and drawing us to become recipients of His grace.
Pastoral Prayer: (Click here for the Pastoral Prayer)
Sermon: The Christian Ambition: Honoring Christ
(Click here to listen to the sermon) (Click here to watch the sermon)
Philippians 1:18-30
Hymn #443, Hark! the Voice of Jesus Crying (Click here for the text of the hymn), (Click here for the piano accompaniment), (Click here for the organ accompaniment)
Our hymn was written by Daniel March in 1868. He completed his theology studies at Yale and became a Congregational minister in 1845,working with Congregational and Presbyterian Churches in Connecticut, New York, Pennsylvania, and Massachusetts. Intensely interested in missions, March visited many countries and was well known for lecturing on his world travels. The words of our hymn encourage us to do whatever we can in responding to the call of Jesus to spread the gospel far and wide.
Benediction (Click here to hear this week's benediction)
---
Questions for Further Discussion
How do others fill in the blank: "Living is ___________"? What are you living for? Why does this matter for you today?
In verse 18 Paul says that he "will" rejoice in the future. How does this challenge you?
Do you allow your trials to cause you to pout or to pray? What trials can you take before the Lord in prayer now?
What does this passage teach us about the importance of intercessory prayer?
Paul had an unstoppable resolve. Can we share this perspective? If so, how would this outlook affect our daily lives?
---
Children's Message:
The Number 6 Counting and Bible Doctrine
Click on these links for a children's bulletin and activity pages to accompany today's message: Children's Bulletin, DIY Creation mini-book.
---
We have been learning numbers and counting together to help us learn Bible stories and Bible teaching about God, his world and Jesus – and today's number is six.
For SIX DAYS God was busy creating the world, everything!
In Exodus 20:11 it says – 11 For in six days the Lord made heaven and earth, the sea, and all that is in them, and rested on the seventh day. (ESV)
Genesis 1:1-3 says – In the beginning God created the sky and the earth. 2 The earth was empty and had no form. Darkness covered the ocean, and God's Spirit was moving over the water. 3 Then God said, "Let there be light!" And there was light. (ICB)
At first, when God created the earth, the earth was a dark place. But God filled the darkness with light.
The earth was also an empty place – God filled the emptiness with plants, trees, fishes, birds and all the animals.
God created everything out of nothing.
He SPOKE and everything came to be.
Isaiah 45:18 – 18 For thus says the Lord, who created the heavens
(he is God!), who formed the earth and made it
(he established it; he did not create it empty,
he formed it to be inhabited!): "I am the Lord, and there is no other. (ESV)
It is easy to remember the order in which God created the world. First he created the scenery/the places where all his creatures would live and then he created those creatures and life (animals and man) and then God put them in the places where they would live and eat and multiply.
Day 1: Light/Darkness – Day/Night – verses 1-5
Day 2: Sky/Heavens – verses 6-8
Day 3: Dry ground/Dirt/Earth & plants, trees; Seas – verses 9-13
Day 4: Sun, moon & stars – verses 14-19
Day 5: Birds & sea animals – verses 20-23
Day 6: Land animals & humans – Tall skinny giraffes and furry little squirrels. He made cuddly little kittens and big, ferocious lions — animals of every kind. Then God made man and woman. The Bible says he made people to in his image and likeness – and God put mankind in charge of all that he had created — the fish of the sea, the birds of the air, and every living creature. verses 24-31
Jeremiah 32:17: Oh, Lord God, you made the skies and the earth. You made them with your very great power. There is nothing too wonderful for you to do. (ICB)
IN ONLY SIX DAYS – God created and did amazing things. He created people like you and me – so we can love and worship him.