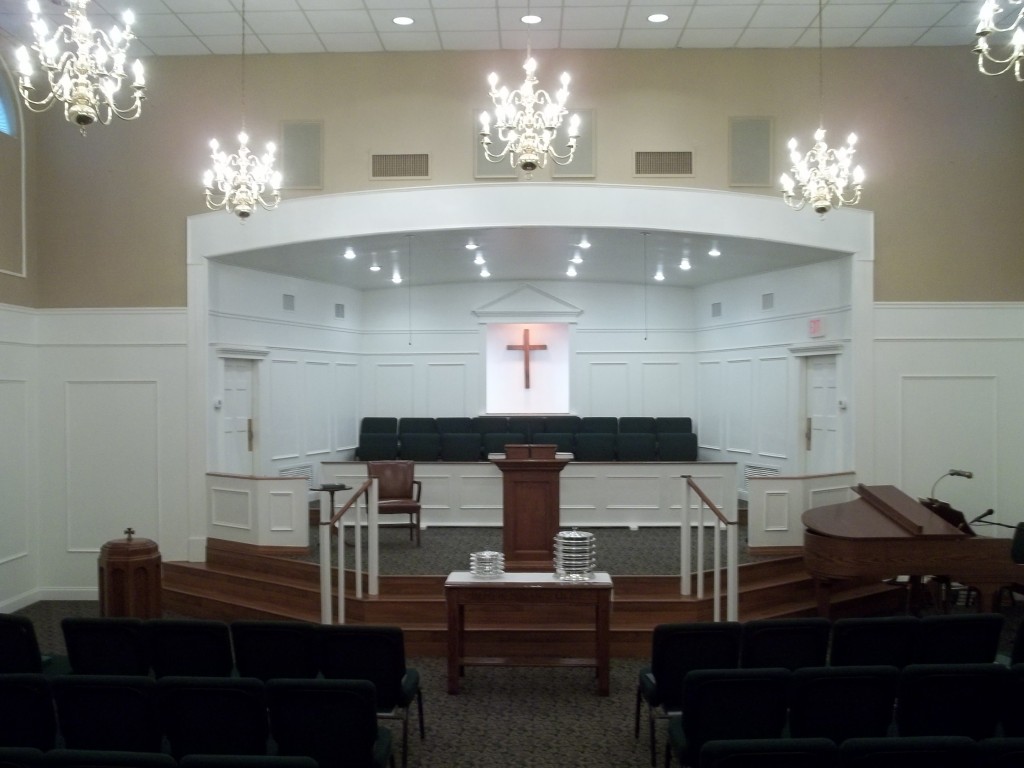 Our text is Philippians 3:1-11.
One of the reasons this passage is important is because it reminds believers of their need to stay focused on the true gospel of Jesus. Salvation is not knowing some things about Jesus. It is not about doing religious things to earn acceptance before Jesus. This text really speaks about the problem of legalism. Legalism is the temptation to derive your justification before God, your acceptance by God, and your forgiveness from God by your own religious works. The truth is, Christians have a tendency to forget the implications of the biblical gospel daily. We have a tendency to revert back to legalism, which is self-atonement, and a self-salvation project that leads only to despair. We must resist the false gospel of human achievement.
---
Children's Message: Pastor Chad Sadorf has been including a series of Children's Messages. This series of Children's Messages will look at numbers and counting to help teach Bible stories and doctrine about God, his world, and Jesus. Today's message is provided as a video; this link appears just after the Gloria Patri in the service (where it would normally occur in our church service). Click on these links for a children's bulletin and coloring page to accompany today's message: Children's Bulletin and Coloring Page.
---
Service for Family Worship:
Call to Worship:
Matthew 11:28
28 Jesus said, Come to me, all you who labor and are heavy laden and I will give you rest. (ESV)
John 7:37
37 "If anyone thirsts, let him come to me and drink. (ESV)
Revelation 22:17
17 And let the one who hears say, "Come." And let the one who is thirsty come; let the one who desires take the water of life without price. (ESV)
Psalm 95:1-2
1 Oh come, let us sing to the Lord; let us make a joyful noise to the rock of our salvation! 2 Let us come into his presence with thanksgiving; let us make a joyful noise to him with songs of praise! (ESV)
Matthew 28:5b-7
5b "Do not be afraid, for I know that you seek Jesus who was crucified. 6 He is not here, for he has risen, as he said. Come, see the place where he lay. 7Then go quickly and tell his disciples that he has risen from the dead. (ESV)
Matthew 28:19-20
19 Go therefore and make disciples of all nations, baptizing them in the name of the Father and of the Son and of the Holy Spirit, 20 teaching them to observe all that I have commanded you. And behold, I am with you always, to the end of the age." (ESV)
Prayer:
Father, on Easter Sunday morning, when we especially celebrate the resurrection of our Savior, we realize that we are a group of sinners who have become royalty because you have accepted Jesus' death on the cross as payment for our sins.
You are holy beyond comprehension, the standard of perfection.
And yet, we rejoice that you dwell with us because of your great salvation, and the reality that you have regenerated our hearts, and given us the gift of faith that we would believe the gospel, so we can be clean in your sight.
We rejoice, triune God, that we know you personally because of your saving work and grace.
And because you have sealed us unto eternal life, we continue to believe on a daily basis.
The riches of your grace are too wonderful for us to comprehend.
But we humble ourselves before in worship, with empty hands, with hearts full of gratitude, and without pretense.
Father, enable us by the power of Holy Spirit to worship you in spirit and in truth as we come to your throne through our Lord and Savior Jesus Christ.
Glorify yourself through us now. In Jesus' name we pray. Amen.
Worship in Psalm: Psalm 47 (Click here for the text of the hymn), (Click here for the piano accompaniment), (Organ accompaniment is unavailable)
In the month of April, our congregation will be singing Psalm 47. In discussing this psalm, Dr. Derek Thomas, pastor of First Presbyterian Church, Columbia, SC said,"This Psalm is about the rule and reign of God. God is. This is a Psalm of faith. It doesn't waste time in trying to prove the existence of God; it proclaims the God who is there in all of His power and greatness and glory. Kingdoms may come, and kingdoms may go. Since this Psalm was written, many kingdoms have come and gone…Where are all those mighty empires today? They're gone, every one of them. Kingdoms come and kingdoms go, but the Kingdom of God lasts forever." Derek Thomas, "Kingdom Come, Kingdom Coming", First Presbyterian Church, Jackson, MS. As downloaded on April 21, 2016, URL:http://www.fpcjackson.org/resource-library/sermons/kingdom-come-kingdom-coming
Corporate Scripture Reading: John 20:1-18
1Now on the first day of the week Mary Magdalene came to the tomb early, while it was still dark, and saw that the stone had been taken away from the tomb. 2 So she ran and went to Simon Peter and the other disciple, the one whom Jesus loved, and said to them, "They have taken the Lord out of the tomb, and we do not know where they have laid him." 3 So Peter went out with the other disciple, and they were going toward the tomb. 4 Both of them were running together, but the other disciple outran Peter and reached the tomb first. 5 And stooping to look in, he saw the linen cloths lying there, but he did not go in. 6 Then Simon Peter came, following him, and went into the tomb. He saw the linen cloths lying there, 7 and the face cloth, which had been on Jesus' head, not lying with the linen cloths but folded up in a place by itself. 8 Then the other disciple, who had reached the tomb first, also went in, and he saw and believed; 9 for as yet they did not understand the Scripture, that he must rise from the dead. 10 Then the disciples went back to their homes. 11 But Mary stood weeping outside the tomb, and as she wept she stooped to look into the tomb. 12 And she saw two angels in white, sitting where the body of Jesus had lain, one at the head and one at the feet. 13 They said to her, "Woman, why are you weeping?" She said to them, "They have taken away my Lord, and I do not know where they have laid him." 14 Having said this, she turned around and saw Jesus standing, but she did not know that it was Jesus. 15 Jesus said to her, "Woman, why are you weeping? Whom are you seeking?" Supposing him to be the gardener, she said to him, "Sir, if you have carried him away, tell me where you have laid him, and I will take him away." 16 Jesus said to her, "Mary." She turned and said to him in Aramaic, "Rabboni!" (which means Teacher). 17 Jesus said to her, "Do not cling to me, for I have not yet ascended to the Father; but go to my brothers and say to them, 'I am ascending to my Father and your Father, to my God and your God.'" 18 Mary Magdalene went and announced to the disciples, "I have seen the Lord"– and that he had said these things to her.
Confession:
Almighty God, we confess that in the space of a day we turn away from you many times. We are often impatient, unkind, selfish, conceited, and deliberately defiant against your will. We frequently live comfortably in our sin rather than compelled by your grace. Sometimes the cross is more of a decoration in our lives than a reminder of your great sacrifice.
May the finished work of the Lord Jesus and your amazing grace turn us toward you. Remind us that it is his death and resurrection that allows us to live. Forgive us we pray, and change our hearts, so that we may be a grateful people redeemed by your grace.In the matchless name of Jesus' we pray. Amen.
Assurance of Pardon: Romans 5:8
21 For our sake he made him to be sin who knew no sin, so that in him we might become the righteousness of God. (ESV)
This is a wonderful promise we have in the gospel. Glory be to God.
Affirmation of Faith:
The Westminster Larger Catechism
Question 52:
How was Christ exalted in his resurrection?
Answer:
Christ was exalted in his resurrection, in that, not having seen corruption in death, (of which it was not possible for him to be held,) and having the very same body in which he suffered, with the essential properties thereof, (but without mortality, and other common infirmities belonging to this life,) really united to his soul, he rose again from the dead the third day by his own power; whereby he declared himself to be the Son of God, to have satisfied divine justice, to have vanquished death, and him that had the power of it, and to be Lord of quick and dead: all which he did as a public person, the head of his church, for their justification, quickening in grace, support against enemies, and to assure them of their resurrection from the dead at the last day.
Response in Praise: Gloria Patri (Click here for the text of the hymn), (Click here for voices and accompaniment), (Click here for the piano accompaniment), (Click for the organ accompaniment)
Children's Message:
The Number 666, Counting and Bible Doctrine (Click here to link to the video of the Children's Message)
(You may want to take a moment to pray with your child or children for your family, your church family, our country and world.)
Offertory:
Matthew 6:19-21
19 "Do not lay up for yourselves treasures on earth, where moth and rust destroy and where thieves break in and steal, 20 but lay up for yourselves treasures in heaven, where neither moth nor rust destroys and where thieves do not break in and steal. 21 For where your treasure is, there your heart will be also. (ESV)
(Online giving is now available for your convenience. This link, https://www.faithpresarp.org/give/, will take you to the page that explains this process and includes a button which will redirect you to the secured giving platform.
Response in Praise: Doxology (Click here for the text of the hymn), (Click here for voices and accompaniment), (Click here for the piano accompaniment), (Click for the organ accompaniment)
"Christ the Lord Is Risen Today" was written by Charles Wesley in 1739. It begins with both heaven and earth singing in praise of Christ having won the battle and defeated death. The hymn is written in the present tense: "Christ the Lord is risen today" — not "has risen" or "rose." This is powerful because it places us in community with those who witnessed the resurrection in their own lifetimes, and reaffirms our own hope of being set free from death. The fourth stanza declares we can know everlasting life as our ultimate hope — present, past and future. The victory is ours because our Savior is risen.
Pastoral Prayer: (Click here for the Pastoral Prayer)
Prayer for Illumination and Sermon: The Power of the Resurrection
(Click here to listen to the sermon) (Click here to watch the sermon)
Philippians 3:1-11
I. The marks of those who know Christ (verses 2-6)
II. How to know Christ (verses 7-11)
Hymn #276, Up from the Grave He Arose (Click here for the text of the hymn), (Click here for the piano accompaniment), (Click here for the organ accompaniment)
Robert Lowry, the author and composer of this hymn, was a popular Baptist preacher and educator. Our 1874 hymn has three stanzas that say the same thing three different ways. Each stanza ends with "Jesus my Lord!" The words are inspired by the story of the angel at the empty tomb who said to the frightened women who had come to Jesus' tomb, "He is not here; he has risen." The words capture perfectly the spirit of the transition from Good Friday to Easter Sunday.
Benediction (Click here to hear this week's benediction)
---
Questions for Further Discussion
Why is it important to resist legalism and false gospels?
According to 3:3, what are the three distinguishing marks of a genuine Christian?
On what are you basing your assurance of salvation?
Why do you need Christ's righteousness?
What is the power of the resurrection, believers have within them, working to bring about?
---
Children's Message:
The Number 666, Counting and Bible Doctrine
Click on these links for a children's bulletin and coloring page to accompany today's message: Children's Bulletin and Coloring Page.
---
We have been learning numbers and counting together to help us learn Bible stories and Bible teaching about God, his world and Jesus – our number that we are going to talk about is not a good number, it is a bad number, an evil number that you never want to be related to – in fact people who don't know God – they don't like this number either – the # is 666.
When we talked about the #7 we said that seven in the Bible often pictures perfection or completion, wholeness, even victory.
But in Bible times the #6 was a symbol of imperfection.
So 666 pictures failure upon failure upon failure!
When the Bible repeats something 3 times – like holy, holy, holy – you need to pay attention.
Repeating 6 (3 times) shows something is very wrong.
666 is evil raised to the highest power.
Where do we find this #666 – one place in the Bible – in the Book of Revelation, Chapter 13, in verses 17-18, we read – 17 No one could buy or sell without this mark. This mark is the name of the beast or the number of his name. 18 Whoever has understanding can find the meaning of the number. This requires wisdom. This number is the number of a man. His number is 666. (ICB)
666 pictures sinful mankind controlled by Satan at war with God.
The number 666 represents an attack on worshiping God and him alone.
666 symbolizes the worship of false gods and putting man above god.