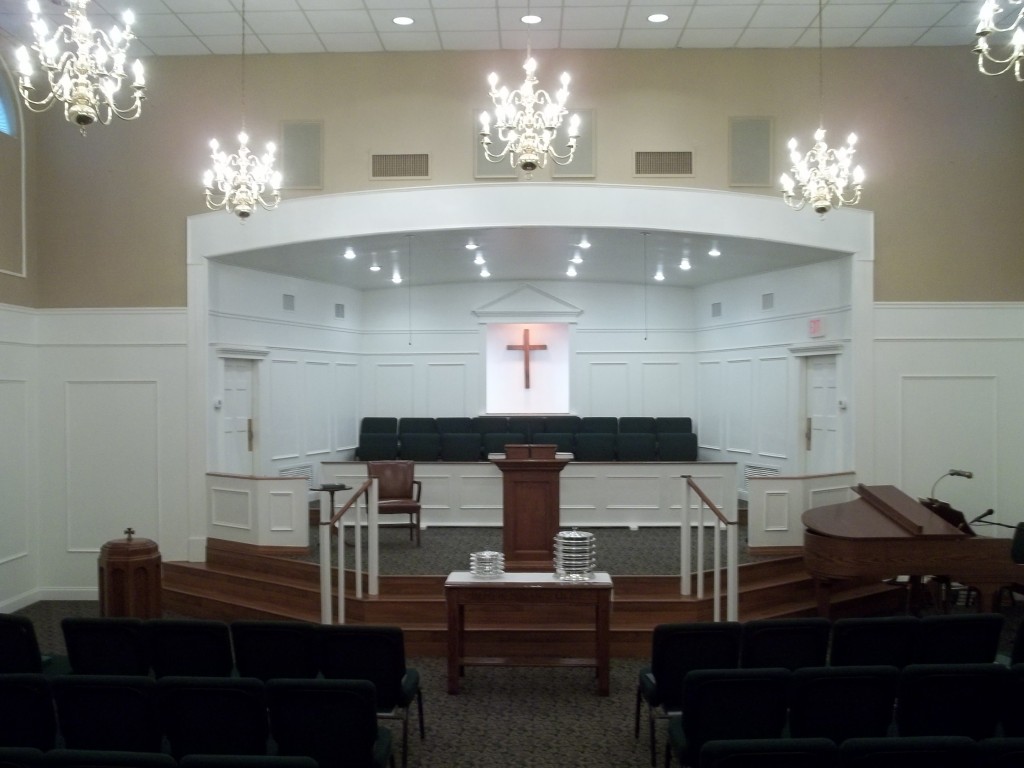 Our text is Philippians 3:17-4:1.
In this passage Paul reminds the Philippians that some are setting the wrong example, and that we are to avoid the patterns of pretenders and earthly-minded people. Who are these "enemies of the cross"? No one seems to be able to identify them with certainty. Some commentators think they appear to be people who make some sort of profession of Christian faith, but in reality, they oppose the gospel. They are pretenders. They should not be confused with those mentioned in 1:15-17, who were Christians despite having bad motives for ministry. Nor should they be thought of as pagans, who outright reject the gospel. Instead they put on a show as Christian leaders, but a cross-bearing example is missing. Their ethic is not consistent with their profession.
---
Children's Message: Pastor Chad Sadorf has been including a series of Children's Messages. This series of Children's Messages will look at spiritual gifts. Today's message is provided as a video; this link appears just after the Gloria Patri in the service (where it would normally occur in our church service). Click on these links for a children's bulletin and coloring page to accompany today's message: Children's Bulletin and Coloring Page.
---
Service for Family Worship:
Call to Worship:
1 Chronicles 16:23-30
23 Sing to the Lord, all the earth! Tell of his salvation from day to day. 24 Declare his glory among the nations, his marvelous works among all the peoples! 25 For great is the Lord, and greatly to be praised, and he is to be feared above all gods. 26 For all the gods of the peoples are worthless idols, but the Lord made the heavens. 27 Splendor and majesty are before him; strength and joy are in his place. 28 Ascribe to the Lord, O families of the peoples, ascribe to the Lord glory and strength! 29 Ascribe to the Lord the glory due his name; bring an offering and come before him! Worship the Lord in the splendor of holiness; 30 tremble before him, all the earth; yes, the world is established; it shall never be moved. (ESV)
Prayer:
Father, when we come to worship it is so easy for us to come unprepared, to be disengaged, and to end up just going through the motions. The sanctuary is familiar and comfortable. We are here with our family and friends. We know the hymns. We know the liturgy. And sometimes we are just tired.
So Father, even though we are here physically, will you enable, encourage, and direct our worship, by Holy Spirit. Grip our hearts with the reality of your holiness. Open our minds and overwhelm us with the truth and the reality of the gospel, so that we might offer you the best part of our lives—all our mental faculties—and not simply what is left over. Show us our immense need for Jesus and that he would be most precious in our sight. In his name we pray. Amen.
Worship in Psalm: Psalm 47 (Click here for the text of the hymn), (Click here for the piano accompaniment), (Organ accompaniment is unavailable)
In the month of April, our congregation will be singing Psalm 47. In discussing this psalm, Dr. Derek Thomas, pastor of First Presbyterian Church, Columbia, SC said,"This Psalm is about the rule and reign of God. God is. This is a Psalm of faith. It doesn't waste time in trying to prove the existence of God; it proclaims the God who is there in all of His power and greatness and glory. Kingdoms may come, and kingdoms may go. Since this Psalm was written, many kingdoms have come and gone…Where are all those mighty empires today? They're gone, every one of them. Kingdoms come and kingdoms go, but the Kingdom of God lasts forever." Derek Thomas, "Kingdom Come, Kingdom Coming", First Presbyterian Church, Jackson, MS. As downloaded on April 21, 2016, URL:http://www.fpcjackson.org/resource-library/sermons/kingdom-come-kingdom-coming
Corporate Scripture Reading: Luke 18:9-14
9 He also told this parable to some who trusted in themselves that they were righteous, and treated others with contempt: 10 "Two men went up into the temple to pray, one a Pharisee and the other a tax collector. 11 The Pharisee, standing by himself, prayed thus: 'God, I thank you that I am not like other men, extortioners, unjust, adulterers, or even like this tax collector. 12 I fast twice a week; I give tithes of all that I get.' 13 But the tax collector, standing far off, would not even lift up his eyes to heaven, but beat his breast, saying, 'God, be merciful to me, a sinner!' 14 I tell you, this man went down to his house justified, rather than the other. For everyone who exalts himself will be humbled, but the one who humbles himself will be exalted."
Confession:
Father in heaven, we need to be forgiven.
We have often tried to deal with our sins on our terms instead of yours.
Instead of trusting in the finished work of Jesus Christ,
we have tried to work off our guilt.
We have tried so hard to pile up good deeds that outweigh our sins
in order to earn your favor.
When this doesn't work,
we quickly turn to denial and distraction.
Instead of trusting in the resurrection of Jesus Christ,
we have tried to change through our own efforts.
We have tried to change our hearts through sheer willpower.
This has left some of us arrogant.
This has left most of us anxious and depressed.
Forgive us for trying to heal ourselves.
Forgive us for neglecting your grace.
Forgive, heal and transform us for Jesus' sake. Amen.
Assurance of Pardon: 2 Corinthians 5:21
21 For our sake he made him to be sin who knew no sin, so that in him we might become the righteousness of God. (ESV)
Jesus was the perfect, all-sufficient atonement for our sins.
We are forgiven through the instrument of faith in him, and his righteousness is credited to our account.
We are utterly justified before a Holy God. Amen.
Affirmation of Faith:
The Westminster Larger Catechism
Question 56:
How is Christ to be exalted in his coming again to judge the world?
Answer:
Christ is to be exalted in his coming again to judge the world, in that he, who was unjustly judged and condemned by wicked men, shall come again at the last day in great power, and in the full manifestation of his own glory, and of his Father's, with all his holy angels, with a shout, with the voice of the archangel, and with the trumpet of God, to judge the world in righteousness.
Response in Praise: Gloria Patri (Click here for the text of the hymn), (Click here for voices and accompaniment), (Click here for the piano accompaniment), (Click for the organ accompaniment)
Children's Message:
Spiritual Gifts: The Gift of Prophecy (Click here to link to the video of the Children's Message)
(You may want to take a moment to pray with your child or children for your family, your church family, our country and world.)
Offertory:
Ephesians 2:10
10 For we are his workmanship, created in Christ Jesus for good works, which God prepared beforehand, that we should walk in them.
God has given us the blessing and responsibility of stewardship.
Let us serve him with our very lives.
(Online giving is now available for your convenience. This link, https://www.faithpresarp.org/give/, will take you to the page that explains this process and includes a button which will redirect you to the secured giving platform.
Response in Praise: Doxology (Click here for the text of the hymn), (Click here for voices and accompaniment), (Click here for the piano accompaniment), (Click for the organ accompaniment)
The imagery of Jeremiah 18:3-6: "The potter's house, the potter's wheel and the potter's hand" forms the background for the hymn's theme of submission to God's will. Adelaide A. Pollard was a teacher in several schools for girls, an itinerant Bible study teacher and "wanna be" missionary to Africa. After an unsuccessful attempt to raise funds for a trip to Africa, she was left experiencing a "distress of her soul." She wrote down the words of our hymn following a 1902 prayer meeting, where an elderly woman prayed: "It really doesn't matter what you do with us, Lord — just have your way with our lives." Adelaide's personal situation is reflected in the third stanza: "Wounded and weary, help me I pray!" A request we can all make.
Pastoral Prayer: (Click here for the Pastoral Prayer)
Prayer for Illumination and Sermon: Live in Light of Our True Citizenship
(Click here to listen to the sermon) (Click here to watch the sermon)
Philippians 3:17-4:1
Hymn #521, My Hope Is Built on Nothing Less (Click here for the text of the hymn), (Click here for the piano accompaniment), (Click here for the organ accompaniment)
Our hymn writer Edward Mote was not brought up in a godly home and did not have the advantage of early exposure to Scripture. His parents managed a pub in London and often neglected young Edward, who spent most of his Sundays playing in the city streets. Of his theological upbringing, he said "so ignorant was I that I did not know that there was a God." Apprenticed at a young age by his parents to a cabinetmaker, Edward found faith at age 15 and established a successful cabinet-making enterprise. He became a Baptist minister in 1852, at 55 years of age. He composed more than 100 hymns. Our hymn, written in 1834, has in the first stanza a clear statement of total dependence on Christ. Nothing in this hymn ever hints that any work on our part can add to Christ's work in order to secure our eternal salvation. Yet, the hymn is not ignorant of the reality of our daily struggles as stanzas 2 and 3 speak of "darkness… a stormy gale…whelming flood…my soul gives way." Ask yourself: Is Christ the solid rock of your life?
Benediction (Click here to hear this week's benediction)
---
Questions for Further Discussion
1. What are some characteristics of the "enemies of the cross" in verse 18?
2. In what ways is Faith Presbyterian Church a little colony of the kingdom of heaven?
3. How should the promise of Jesus' return affect the way you live your life?
---
Children's Message:
Spiritual Gifts: The Gift of Prophecy
Click on these links for a children's bulletin and coloring page to accompany today's message: Children's Bulletin and Coloring Page.
---
We are learning about spiritual gifts in the Bible from Romans 12:4-8 (International Children's Bible Version)
Do you have the spiritual gift of prophecy?
In verse 6 it says – We all have different gifts. Each gift came because of the grace that God gave us. If one has the gift of prophecy, he should use that gift with the faith he has.
Prophets with a capital P like Elijah and Daniel in the (OT) and John the Baptist in the (NT) gave new teachings from God and they instructed, warned, and encouraged others.
Today, we don't have capital "P" prophets or even apostles that get new teachings from God to add to the Bible, there are NO new teachings. God has given us his completed Word.
However, the Bible does say in 1 Corinthians 14:1 that we should "eagerly desire gifts of the Spirit, especially prophecy" because in verse 3 it also says "the one who prophesies speaks to people for their strengthening, encouraging and comfort".
So, even if there are no capital "P" prophets today – there are people who with a lower case "p" speak like a prophet to explain and apply and teach accurately what the Bible tells us!
Little "p" prophecy today brings the truth of God's Word to people's hearts so they can by Holy Spirit see what the Bible teaches and be strengthened, encouraged and comforted and GLORIFY God!
To prophesy today with a small letter "p" means applying the Word of God to every situation in life, to use this gift means helping others apply the Word of God accurately to whatever happens in their life, maybe as simple as having the right Bible verse for a person in a time of need.
If you have this spiritual gift, you probably find yourself able to tell others about right and wrong. You are able to talk to people boldly about Jesus' life, death, and resurrection or about sin and forgiveness and living in a way that pleases God!
This spiritual gift does not build up the person with this gift, it builds up the Church.
If God has given you this spiritual gift, thank him and use this gift to strengthen, encourage and comfort others.