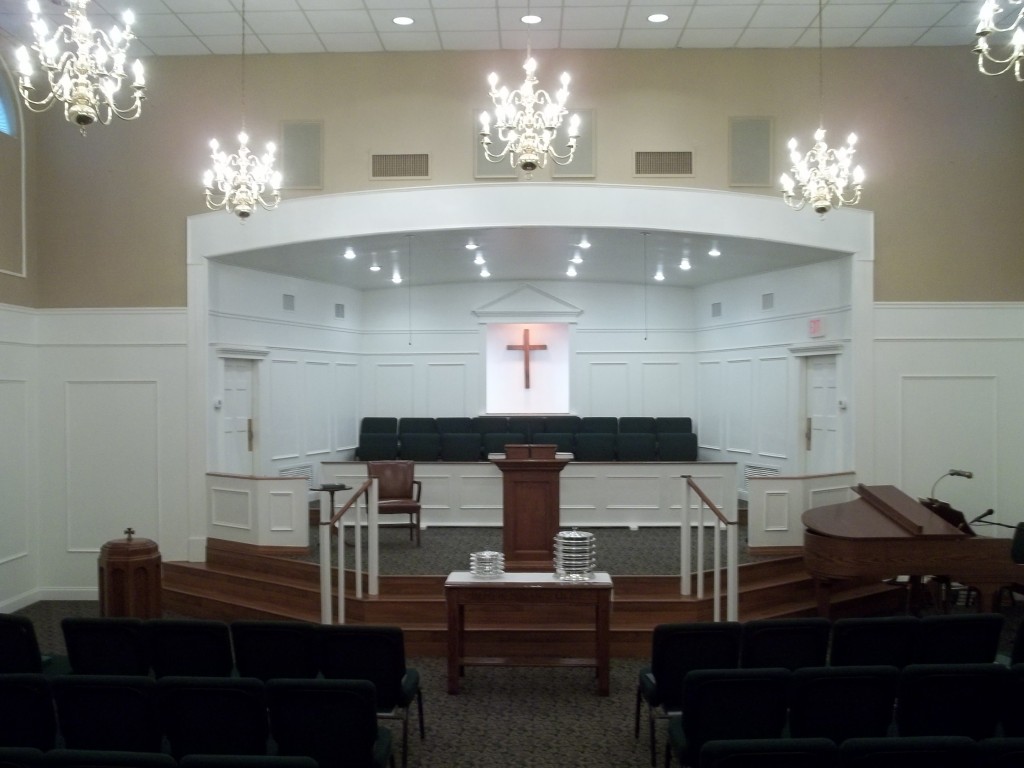 Our text is Philippians 3:12-16.
As Paul explains his spiritual longing in this passage, he tells the Philippians that they should follow his example and take his perspective on spiritual progress. In verse 15 he says, "Let those of us who are mature think this way." Every Christian, then, should take a close look at this passage because Paul provides an inspiring and instructive path for growing in spiritual maturity.
---
Children's Message: Pastor Chad Sadorf has been including a series of Children's Messages. This series of Children's Messages will look at spiritual gifts. Today's message is provided as a video; this link appears just after the Gloria Patri in the service (where it would normally occur in our church service). Click on these links for a children's bulletin and coloring page to accompany today's message: Children's Bulletin and Coloring Page.
---
Service for Family Worship:
Call to Worship:
Romans 5:6-9
6 For while we were still weak, at the right time Christ died for the ungodly. 7 For one will scarcely die for a righteous person– though perhaps for a good person one would dare even to die– 8 but God shows his love for us in that while we were still sinners, Christ died for us. 9 Since, therefore, we have now been justified by his blood, much more shall we be saved by him from the wrath of God. (ESV)
Prayer:
Almighty God—Father, Son, and Holy Spirit—Holy, holy, holy, is your name. You are exalted above the heavens, and your glory is displayed in all of your creation. You sustain, control, and rule over all that exists—seen and unseen.
And yet you dwell with your children in the most intimate way because of Jesus.
So we come to you in humility, but with boldness and with great joy. Not because we have earned your favor, but because we are trusting that the blood of your Son has justified us. And that you invite us into your presence because of his righteousness credited to us through the instrument of faith. Father, Son, and Holy Spirit, would you lift up our hearts this morning in love and adoration to you. Make us to be still and know that you are God. And may we glimpse your glory and your holiness as your word is read, as we confess our sins, as prayers are offered, and as your word is preached. In the matchless name of Jesus we pray. Amen
Worship in Psalm: Psalm 47 (Click here for the text of the hymn), (Click here for the piano accompaniment), (Organ accompaniment is unavailable)
In the month of April, our congregation will be singing Psalm 47. In discussing this psalm, Dr. Derek Thomas, pastor of First Presbyterian Church, Columbia, SC said,"This Psalm is about the rule and reign of God. God is. This is a Psalm of faith. It doesn't waste time in trying to prove the existence of God; it proclaims the God who is there in all of His power and greatness and glory. Kingdoms may come, and kingdoms may go. Since this Psalm was written, many kingdoms have come and gone…Where are all those mighty empires today? They're gone, every one of them. Kingdoms come and kingdoms go, but the Kingdom of God lasts forever." Derek Thomas, "Kingdom Come, Kingdom Coming", First Presbyterian Church, Jackson, MS. As downloaded on April 21, 2016, URL:http://www.fpcjackson.org/resource-library/sermons/kingdom-come-kingdom-coming
Corporate Scripture Reading: Luke 17:1-4
1 And he said to his disciples, "Temptations to sin are sure to come, but woe to the one through whom they come! 2 It would be better for him if a millstone were hung around his neck and he were cast into the sea than that he should cause one of these little ones to sin. 3 Pay attention to yourselves! If your brother sins, rebuke him, and if he repents, forgive him, 4 and if he sins against you seven times in the day, and turns to you seven times, saying, 'I repent,' you must forgive him."
Confession:
Almighty God, Creator and Redeemer, holy beyond all comprehension, perfect in all your attributes and character, forgive our sins. Forgive the sins that we remember, and the sins we have forgotten. Forgive our many failures in the face of temptation, and those times when we have been stubborn in the face of correction. Forgive the times we have been proud of our own achievements and those when we have failed to boast in your works. Forgive the harsh judgments we have made of others, and the leniency we have shown ourselves. Forgive the lies we have told to others, and the truths we have avoided. Forgive us the pain we have caused others and the indulgence we have shown ourselves. Gracious Father, have mercy on us, restore the joy of our salvation, and transform us increasingly into the image of your Son. For it is in his name we pray. Amen.
Assurance of Pardon: Isaiah 53:4-5
4 Surely he [Jesus] has borne our griefs and carried our sorrows; yet we esteemed him stricken, smitten by God, and afflicted. 5 But he was pierced for our transgressions; he was crushed for our iniquities; upon him was the chastisement that brought us peace, and with his wounds we are healed. (ESV)
Our Lord Jesus is the perfect atonement for all our sins—past, present, and future. Through the instrument of saving faith we are permanently and utterly justified before a Holy God.
Affirmation of Faith:
The Westminster Larger Catechism
Question 55:
How does Christ make intercession?
Answer:
Christ makes intercession, by his appearing in our nature continually before the Father in heaven, in the merit of his obedience and sacrifice on earth, declaring his will to have it applied to all believers; answering all accusations against them, and procuring for them quiet of conscience, notwithstanding daily failings, access with boldness to the throne of grace, and acceptance of their persons and services.
Response in Praise: Gloria Patri (Click here for the text of the hymn), (Click here for voices and accompaniment), (Click here for the piano accompaniment), (Click for the organ accompaniment)
Children's Message:
Spiritual Gifts: An Introduction (Click here to link to the video of the Children's Message)
(You may want to take a moment to pray with your child or children for your family, your church family, our country and world.)
Offertory:
Deuteronomy 16:17
17 Every man shall give as he is able, according to the blessing of the Lord your God that he has given you.
Lord, you have blessed us so richly. We thank you for the privilege of giving. Amen.
(Online giving is now available for your convenience. This link, https://www.faithpresarp.org/give/, will take you to the page that explains this process and includes a button which will redirect you to the secured giving platform.
Response in Praise: Doxology (Click here for the text of the hymn), (Click here for voices and accompaniment), (Click here for the piano accompaniment), (Click for the organ accompaniment)
Our hymn, written in 1745, was incorporated in two of the most televised services of the last two decades, the funeral of Princess Diana of Wales (1997) and the royal wedding of Prince William and Catherine Middleton (2011). The author, William Williams was born in Wales and had no aspirations to be a minister. In fact, he intended to be a doctor but was converted to Christ under the Calvinistic preaching of Welshman Howell Harris. Williams beautifully interweaves imagery from the Old Testament book of Exodus to evoke a sense of God's guidance through struggle. The hymn ends in climactic fashion with the Hebrew people finally reaching their destination after forty years of wandering in the desert and crossing the river "Jordan" and their arrival in Canaan.
Pastoral Prayer: (Click here for the Pastoral Prayer)
Prayer for Illumination and Sermon: Growing in Grace
(Click here to listen to the sermon) (Click here to watch the sermon)
Philippians 3:12-16
Hymn #518, Christ, of All My Hopes the Ground (Click here for the text of the hymn), (Click here for the piano accompaniment), (Click here for the organ accompaniment)
Our hymn was written in 1817 by Ralph Wardlaw. He held a Doctorate in Divinity from Glasgow University. A writer of numerous hymns, he was a profound theologian and expositor and pastored only one church in Glasgow his entire life of ministry. The words of our hymn are drawn from the doctrine of our "union with Christ" and Paul's statement in Philippians 1:21 – "to me, to live is Christ and to die is gain."
Benediction (Click here to hear this week's benediction)
---
Questions for Further Discussion
1. How does the gospel humble you?
2. What is the prize that Paul pursues in verse 14?
3. Why do we need passion and discipline to grow in spiritual maturity?
4. Do you use past victories and successes, or failures as an excuse not to make every effort in the present? Pause and ask the Lord for freedom from your past failures, and humility in your success.
5. What one change could you make in order to pursue the "one thing" (verse 13) that matters the most?
---
Children's Message:
Spiritual Gifts: An Introduction
Click on these links for a children's bulletin and coloring page to accompany today's message: Children's Bulletin and Coloring Page.
---
We are starting a new series of Children's Messages on Spiritual Gifts.
If you love Jesus, God has given Holy Spirit to you to guide, direct, show, and encourage you how to live a godly life and to rely on and trust in Holy Spirit to bless, love and serve other people in the church.
We all have natural talents or abilities – we can sing, do math well, run fast, draw nice pictures, and even build things. But those are natural gifts.
I want to talk to you about supernatural gifts/Spirit given gifts that you practice and use to glorify him and do good to others!
1 Cor. 12: 11 it says…The Spirit decides what to give each person. (ICB)
We learn about these gifts in Romans 12:4-8 – 4 Each one of us has a body, and that body has many parts. These parts all have different uses. 5 In the same way, we are many, but in Christ we are all one body. Each one is a part of that body. And each part belongs to all the other parts. 6 We all have different gifts. Each gift came because of the grace that God gave us. If one has the gift of prophecy, he should use that gift with the faith he has. 7 If one has the gift of serving, he should serve. If one has the gift of teaching, he should teach. 8 If one has the gift of encouraging others, he should encourage. If one has the gift of giving to others, he should give freely. If one has the gift of being a leader, he should try hard when he leads. If one has the gift of showing kindness to others, that person should do so with joy. (ICB)
How do you know which spiritual gift you have?
First, you need to have a relationship with God by trusting in Jesus as your Lord and Savior because a spiritual gift is just that – SPIRITUAL – God-given.
Second, pray and ask God to show you what gift or gifts you have and what you can do with them?
Third, you need to go use your gifts. Just get out there and use them!
Finally, when you use your gifts, when you "exercise" your gift (flex muscles), you get better at using them, and God will give you more times to use them to serve others.
Because when you and I use the gifts God has given to us, the church works properly.